A Beginner's Guide to Staff Augmentation
Sector: Digital Product, Technology
Author: Abhishek Singh
Date Published: 04/28/2020
The Information Technology sector is becoming increasingly dynamic by the day. Companies and businesses are caught up in a vicious circle of continuous hiring and attrition. With the demands of customers in the market becoming more specific, brands are forced to always stay ahead of the curve to deliver both the expected and the unexpected.
This has given rise to a desperate need for niche specialists to get on board and do the job. While the in-house team sometimes experiences a bottleneck situation, it generally calls for an expert from the outside to look at concerns from a fresh perspective, identify loopholes and fix them.
The concerns could be anything from developing a product to running the operations. However, the catch here is that these experts come with a hefty price tag. Because they have years of experience and solid expertise, hiring them often turns out to be very expensive in the longer run.
While bigger companies and market players can afford them, it's usually the small and medium scale businesses that can't afford them. Ironically, it's these businesses that need them the most.
Well, that's where staff augmentation comes in. With this hiring framework, companies have to no longer worry about hiring a niche specialist for their teams regardless because this framework is all about having an expert in place temporarily.
What is Staff Augmentation?
Once a buzzword now a norm, staff augmentation meaning is the process of hiring niche specialists and staff for your organization based on your specific needs and requirements. Unlike the conventional hiring system, this augmentation is not permanent but a temporary filling up of an evident gap on a contractual basis.
As per research and statistics from Statista, the IT outsourcing industry (ITO) was $314.92 billion as of the year 2015 and it is expected to reach the mark of $481.27 billion by the year 2022.
Staff augmentation is becoming increasingly popular among businesses and startups as it prevents them from shelling out a huge chunk of their budget into hiring that key resource for a short-term basis.
Some of the key aspects that make staff augmentation unique are the fact that it is different from freelancing and outsourcing yet these augmented staff can work out of your workspace or remotely.
Difference between Staff Augmentation, Freelancing, and Outsourcing
From the outside, the concepts may be very similar as the ultimate aim is to get a key resource onboard to ensure your workflow remains unharmed. But when you zoom in, the differences are visible.
What is Freelancing?
Though freelancing is very close to staff augmentation, a freelancer differs from an augmented staff in terms of attitude, competency, pricing, and integrity. An augmented staff comes from a credible company that is held accountable for the attendance, performance, and deliverables of the staff.
While on the other hand, a freelancer is another profile online that lacks airtight credibility. A freelancer is most likely to ghost out when exposed to pressure but that is not the case with an augmented staff.
What is Outsourcing?
We believe you're familiar with outsourcing and that most of you are already outsourcing some aspects of your business. In outsourcing, you bestow the entire responsibility of product delivery or management to a third-party company while you focus on other equally important things.
You could outsource your content requirements, app development, hiring, and more. In this, you hardly have any control over how the outsourcing company goes about executing your vision as the processes and workflows are indigenous to the outsourced company.
On the other hand, an augmented staff as part of your team is sourced from a staff augmentation company. The staff is oriented to your culture, modus operandi, visions, and missions and is your team member regardless of the staff's duration.
Types of Staff Augmentation
For the uninitiated, staff augmentation is of two types –
Long term Staff Augmentation
Short term Staff Augmentation
1. Long term Staff Augmentation
This is when you require staff to be working for you for a longer period of time, say, more than six months. The most ideal times to look for a long-term augmented staff are when –
There is an evident skill gap in your organization – meaning, your in-house team does not have the competency required to pull off a task
The responsibilities are so niched that it takes forever to find and recruit that one particular candidate
The job role is very expensive
2. Short Term Staff Augmentation
When the requirement of staff is very temporary for weeks or a couple of months, it's called short-term staff augmentation. You would be a needing a short-term augmented staff if –
It's the peak season in your company and you're looking for an additional resource(s) to handle the volume of incoming work
Your key staff is on a vacation or unavailable because of personal reasons
How Does Staff Augmentation Work?
Though it looks complicated, staff augmentation is quite simple. It takes a systematic approach in helping you find and recruit a specialist or a team of specialists for your requirements. If you're looking to implement this framework in your business, understand that it has three core steps or flow.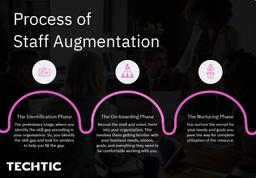 1. The Identification Phase
This is the preliminary stage, where you identify the skill gap prevailing in your organization. The skill gap could be because of a very sophisticated requirement presented to you by your client, your in-house team not having the required competency to complete the job, you overlooked the requirement of a specific job role because there was no initial need for it, and more.
Regardless of the case, it is now you identify it and look for vendors to help you fill the gap.
2. The Onboarding Phase
Once you've identified the skill gap and found the most ideal fit, you recruit the staff and orient them into your organization. This involves them getting familiar with your business needs and requirements, visions, and goals, getting to know your staff and team members, workflows and processes, culture, and everything they need to be comfortable working with you.
3. The Nurturing Phase
The process does not end with their orientation. In fact, it starts with it. Once the staff is on board, it's on you to consistently nurture the staff for optimized performance. As an augmented staff, it becomes involuntary for them to implement workflows and processes they worked on previously. It is only when you nurture the recruit for your needs and goals you pave the way for complete utilization of the resource.
Advantages of Staff Augmentation
Staff augmentation offers a lot of advantages. I'm sure you've already pointed out a few staff augmentation advantages and found ways to incorporate this approach into your business.
But if you're still not convinced, staff augmentation helps you :
Reduce the amount of time you spend on recruiting and onboarding staff, who are most likely to quit in a few months
Tackle attrition in a better way
Cut down on operational costs
Bring in more flexibility in hiring
Stay away from time-consuming paperwork and legal processes involved in hiring
Expand your operations seamlessly and downsize at the same time
Pave the way for optimized operational efficiency and more
Disadvantages of Staff Augmentation
Because of the same reason that the recruited staff is temporary, you have to spend time orienting the professional to your company, its operating procedures, processes and workflows, culture, and more.
Despite being a highly skilled professional, the additional staff might require some training or education with regard to the project you're working on.
If your processes are not airtight, there may be vibes of discomfort between the augmented staff and the in-house team.
Remember that you're only hiring a resource. How you utilize the resource for maximum productivity and output is still on you.
Wrapping Up
So, I believe you now know what staff augmentation is, how it brings in change, and if your business needs it. Understand your requirements, explore the workflow we've mentioned, and get your processes up and running without having to worry about spending too much on one resource.