Top 30 Shopify Winter Updates of 2023 – Exciting Commerce
Sector: Digital Commerce
Author: Nisarg Mehta
Date Published: 03/14/2023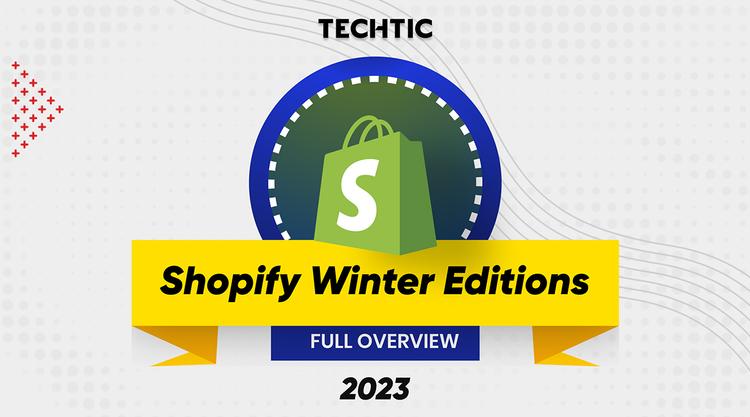 The world of commerce is in a constant state of flux, but there is one constant: those who are at the forefront emerge victorious. Shopify recognizes this fact, which is why the eCommerce platform consistently develops and releases next-gen tools that are not only durable but also keep retailers ahead of the game and provide them with an unequaled edge.
At its Winter '23 Edition, Shopify unveiled over 100 enhancements to its products that we've all been waiting for. These include updates to the Shop app, which can now be used as a mobile strategy straight out of the box, as well as a new one-page checkout and customizations for the checkout process.
The Shopify Fulfillment Network (SFN) has also been upgraded to provide merchants with the best features of the consumer-facing Shop Promise badge, leading to a conversion rate increase of up to 25%.
Shopify has announced that these new feature updates will be presented alongside major releases from the past six months, such as Shopify Markets Pro, POS Go, and Shopify Collabs.
If you wonder what these updates are and how they can benefit modern retailers, we've explained them in this blog post.
30 Most Exciting Shopify Winter Updates
We've analyzed all the Shopify winter updates to understand their effectiveness and impact on the brand's digital journey. Here is what we've found for every update:
Conversion Optimization
Shopify is committed to creating a seamless shopping experience, from fast and efficient storefronts to simplified checkout processes. With the following improvements, merchants can maximize their sales opportunities and convert potential customers into loyal patrons:
1. Faster Page Loads
In an effort to decrease network transit time and improve site speed by 50% to enhance the shopping experience for customers, Shopify has implemented its Storefront Renderer (SFR) application layer in numerous locations around the world.
This move is similar to the Content Distribution Networks' "edge caching" practice, but with a key difference: Shopify is relocating not only the files that are retrieved by the browser but also the entire storefront rendering system.
Since eCommerce needs to be highly personalized and dynamic, the engine that powers it must be moved closer to the end users to achieve optimal performance. At this moment, Shopify has 270 locations worldwide for SFR and continually updating more.
2. One-Page Checkout
Shopify is revamping its trusted checkout system this year with a new, one-page checkout design that takes inspiration from the successful conversion rate of Shop Pay. This updated system is faster, more efficient, and aligned with the expectations of modern shoppers.
By reducing the number of fields customers need to fill out, the checkout process is streamlined, making it quicker for them to complete their purchases. Additionally, the reduced number of page loads minimizes friction for customers, which is a proven conversion rate optimization strategy.
3. Drag-and-Drop Checkout Editor
Shopify Plus merchants now have access to an exclusive feature, the checkout editor, which allows them to customize the appearance of their checkout page easily. By seamlessly integrating with Shop Pay, this editor provides a cohesive brand and buyer experience.
For example, merchants can make changes such as adding their brand's logo, modifying the background color or image, and updating the font of their checkout page.
In addition, merchants can install checkout apps (from Shopify App Store) that integrate with the editor to add extra functionality and further enhance the checkout experience for their customers.
For instance, merchants can install an item upsell section that lets customers add more items to their cart during checkout.
4. Shop Promise
Shopify merchants can now enhance the speed of their delivery service and communicate reliability by installing the Shop channel and adding the 'Shop Promise' badge and delivery dates to their online store.
This feature displays intelligent delivery dates that are predicted by Shopify and are supported by a limited guarantee for customers in case of a missed delivery. By providing this added assurance, customers can check out with confidence, leading to a potential increase in conversion rates of up to 25%.
Omnichannel Capabilities
Shopify has improved its omnichannel retail capabilities to enable merchants to reach customers wherever they are while simplifying management from a single centralized platform. Here are the new features:
5. POS GO
Shopify now offers POS Go, a powerful and secure mobile point-of-sale (POS) device that can easily fit in the palm of a hand. It is available in 15 countries, including Singapore and Finland. POS Go comes equipped with Shopify's POS software, enabling merchants to stay connected to their business and never miss a transaction or interaction.
The device has a built-in POS app, making it ready to use right out of the box and providing access to all necessary tools, resources, and support.
Additionally, with Shopify Payments' 99.9% uptime, merchants can accept all payment types securely and reliably without the need for multiple devices.
6. Shop App Gets Updated
As part of its new edition, Shopify has introduced multiple updates to the Shop app, providing merchants with more options to customize the appearance of their pages.
The updates include a new development kit that developers can use to customize merchant options, enabling them to personalize their Shop store with layouts such as product collections, best sellers, and reviews.
This move underscores Shopify's investment in Shop as a way to connect merchants with customers and highlights the importance of offering vendors and brands more creative freedom in how they use the platform.
7. Google Channel for YouTube Synchronization
Now retailers can expand their reach to millions of potential customers by synchronizing their products to Google Merchant Center. This allows their products to be listed for free on Google Search, YouTube, and other channels. Additionally, merchants can opt to run paid Performance Max campaigns.
It's important to note that in the European Economic Area, the United Kingdom, or Switzerland, Performance Max campaigns can be used in conjunction with any Comparison Shopping Service (CSS) that the merchant works with. The ads will appear on general search results pages and other surfaces that the CSS has opted in to.
Globalization
The recent updates to Shopify Markets, as well as the introduction of Markets Pro, make it easier for merchants to expand to new markets quickly and efficiently from a single store.
The following Shopify winter updates are aimed at helping retailers go global:
8. Translate and Adapt App
The Translate & Adapt feature on Shopify allows store owners to improve their SEO, increase website traffic, and gain the trust of international audiences by localizing their content for different markets.
Store owners can auto-translate up to two languages for free and manually add as many translations as needed.
The side-by-side editor simplifies the review process by enabling retailers to compare translations and adjust content to ensure cultural, seasonal, and regional relevance, even for markets that share the same language.
9. Markets Pro
Markets Pro is a comprehensive solution that helps businesses expand globally. The platform offers various tools to manage end-to-end liability, cost-effective cross-border shipping and fulfillment, and localization features.
With Markets Pro, businesses can outsource international tax filing, registration, and remittance. The platform also automatically removes products that have import restrictions in each market, ensuring compliance with local regulations and enabling buyers to only see items they are permitted to purchase in their region.
Additionally, Markets Pro provides fraud protection on every cross-border order and guarantees foreign exchange rates to protect refunds from currency fluctuations.
B2B Expansion
Since its launch in 2022, the B2B capabilities on Shopify have been significantly improved with numerous enhancements. Here is something new:
10. Quantity Rules
Shopify now offers the ability to create quantity rules for products and variants, allowing retailers to set minimums and maximums, case packs, and increments as needed. By implementing minimum order quantities, businesses can increase their average order value.
Also, selling in bulk not only simplifies the fulfillment process but also enables businesses to save on shipping and handling costs. Additionally, retailers can set unique quantity rules for different customers, providing them with a customized purchasing experience.
11. Checkout to Draft
Now retailers can streamline their order process and provide a better experience for their B2B customers. With the option to receive orders as a draft, businesses can gain greater control and visibility by reviewing and approving orders before finalizing them.
Additionally, the platform provides the option to automatically approve customer orders, increasing efficiency and reducing manual work. Retailers also allow customers to request a quote online, giving them the opportunity to easily inquire about products and services.
Customer Engagement
Shopify now provides businesses with the new tools to make the most out of their marketing budget by targeting, reaching, and re-engaging high-value customers. Here are some:
12. Shopify Collabs
Shopify Collabs is a platform that enables businesses to manage their relationships with creators and influencers effectively. Shopify Collabs' tools are designed to help businesses scale their influencer marketing efforts and build strong relationships with creators.
With this new feature, businesses can recruit and manage creators to promote their products, endorse their brands, and ultimately increase sales.
The features help retailers launch ambassador programs, find new partners, send gifts to creators, track affiliate offers and payments, and manage interactions and sales.
13. Shopify Audiences
Businesses can leverage Shopify Audiences to identify high-intent buyers and improve conversion rates. With Shopify Audiences, retailers can effortlessly create, export, and refresh custom audiences for their online stores.
These audiences can be used across multiple advertising channels, including Google Ad network, Pinterest, and Facebook. By expanding their reach across various advertising channels, businesses can increase their chances of reaching their target audience and driving more sales.
14. Shopify Forms
Shopify Forms provides businesses with a simple way to add an email capture form to their online stores, allowing them to build connections with potential customers and convert them into loyal followers.
With features such as page targeting and timed triggers, businesses can collect valuable information at the right time. Additionally, Shopify Forms allows businesses to quickly customize their forms with their brand's colors and logo, as well as personalized messaging, discounts, and more. Shop users can even save discounts for later use.
To focus on high-intent customers, businesses can enable a user-initiated teaser option. By analyzing performance metrics, they can also gain insights and improve their forms to optimize conversions.
15. Passkeys
Businesses can provide their customers with a convenient and secure way to access authenticated shopping experiences through Shopify's Passkeys feature.
Passkeys are seamlessly integrated with customers' Shop accounts, enabling them to use Passkeys across various platforms, including the Shop app, Shop Pay, and checkout. This streamlined process allows for a more efficient and secure shopping experience, ensuring that customers can easily and confidently make purchases from businesses using Shopify.
16. Re-Marketing Automation
From welcome and win-back automation to first-purchase upsells, businesses can easily add these templates to their existing workflows in Shopify Email. With the ability to set conditions for how this automation should run, online retail businesses can ensure that their messages reach the right customer at the right time, increasing the chances of conversion.
For example, online retailers can send a message before an order is placed, after a delivery is made, or on a special occasion. By including wait steps in their workflows, businesses can space out messages and create the optimal email cadence for engaging with their customers.
This automation allows businesses to efficiently and effectively reach out to customers who have abandoned a cart or checkout or have browsed products without making a purchase, encouraging them to return to their shopping experience and ultimately driving sales.
Fulfillment and Delivery
Shopify offers a variety of simple and affordable logistics solutions to meet the fulfillment needs of businesses of all types. Let's explore what's new here:
17. Inventory Tracking
Businesses can now get a real-time and accurate view of their on-hand and unavailable inventory quantities across all their locations within Shopify. This feature helps minimize lost sales, misplaced stock, and over-ordering.
18. Shipping Insurance
Online retailers can now protect their shipped items with insurance up to $200, included at no additional cost with eligible labels. The insurance helps protect against damage, loss, and theft, giving peace of mind during the shipping process.
19. Shopify Shipping Expands to Italy and Spain
Italian and Spanish businesses can now take advantage of easy domestic shipping for their orders with Poste Italiane in Italy and with Correos in Spain.
Business Operation Management
The Shopify winter update includes several tools, including inventory management, order tracking, and customer management, that businesses can use to optimize their operations and achieve goals. Here are some:
20. Granular Permissions
The Shopify platform has introduced 10 new granular permissions, which include view-only permissions, aimed at providing store owners with greater control over staff access to products, thus enabling them to delegate tasks more confidently.
Furthermore, for Shopify Plus customers, the platform now offers the ability to duplicate an existing role and assign it from their organization admin. These enhancements are designed to provide greater flexibility and customization options for businesses.
21. Shopify Alerts
The Shopify platform has introduced a new alerts feed located directly in the admin. The feed ensures that store owners/managers never miss any critical notifications related to their operations.
In addition, only staff members who possess the required permissions to perform specific tasks will receive relevant alerts. This ensures that those who need to know about important updates are promptly notified, while other staff members can continue working as usual without any interruptions.
The new alerts feed is designed to give businesses greater control over their workflow and ensure that all necessary updates are communicated promptly.
22. ShopifyQL Notebooks
The platform has introduced ShopifyQL Notebooks, an exclusive feature available only to Shopify Plus customers. With this feature, businesses can explore and analyze their data, create custom reports, and visualize their growth in a way that helps them make better business decisions. ShopifyQL Notebooks is powered by an intelligent query language that understands commerce and is designed to provide businesses with a more comprehensive understanding of their operations.
The feature offers a better editor experience with assistive functionality that includes smart defaults and the ability to explore new datasets. Businesses can use the presentation mode to share their data story and communicate their findings effectively.
Additionally, developers now have the ability to build apps or custom solutions for businesses with access to the ShopifyQL Stable API.
23. Shopify Tax
Shopify Tax is a feature of the Shopify platform that simplifies the complexities of sales tax collection in the United States. With Shopify Tax, businesses can stay on top of their tax obligations with a state-by-state overview that provides relevant information about tax rules and rates.
The feature automatically applies the correct tax rates at the appropriate time, even as local rules and rates change, relieving businesses of the burden of manually calculating sales tax.
Development Friendly
Shopify has recently launched the next phase of its Built for Shopify program. The program aims to highlight and recognize apps that meet Shopify's highest standards for safety, performance, and usefulness. Here are the highlights:
24. Hydrogen 2
The Hydrogen 2 update brings a host of new features designed to help developers accelerate commerce development. These features include a new Storefront API client that simplifies querying, starter templates, a CLI to get up and running quickly, and Remix-optimized components that make complex tasks simpler.
Hydrogen 2 also offers improved performance with Remix-powered advancements like optimistic UI, nested routing, and progressive enhancement. With the Hydrogen React library, developers can leverage the best parts of Hydrogen and accelerate commerce development with other React frameworks they already use and love, such as Next.js and Gatsby. The library includes Shopify's pre-built React components like Cart, Shop Pay, and for the first time for headless, Shopify Analytics.
Furthermore, Oxygen hosting is now available to more Shopify plans, including Basic, Shopify, Advanced, and Plus. As a result, businesses can deploy their storefront globally with just one click and at no extra cost, regardless of the size of their store.
25. Storefront API
The Storefront API is now edge-deployed in order to deliver lightning-fast load speeds on every device. The update ensures that businesses can provide their customers with the fastest possible buyer experiences, regardless of their location across the globe.
Storefront API now supports both public and private authentication. With authenticated access, businesses can use the Storefront API on the server side, and their app throttle will scale with the Shopify platform to support high-load requests. This allows businesses to run high-traffic sale campaigns worry-free, regardless of the size of their store or the scale of the sale.
26. Shop Minis
Shopify has introduced its React Native SDK, which allows developers to build and integrate the digital experiences directly into the Shop app. With just one command, developers can get started and use pre-built components like search, product pages, and cart to create an incredible mobile shopping experience.
27. Metaobjects
Shopify now offers metaobjects that are powered by metafields, allowing businesses to create custom content such as product highlights and custom objects like product materials.
Metaobjects enable businesses to enhance their storefront experience by providing additional custom data fields that can be leveraged in various ways, such as showcasing unique product features or providing more detailed product information.
Additionally, businesses can control who can access their metafields and metaobjects through a reserved namespace when building apps, providing them with greater control over their data.
28. Shopify Blockchain
Developers can now leverage Shopify's robust APIs and UI components to create their next token-powered experience. These apps can target specific audiences, drive engagement with exclusive perks, fuel customer loyalty, and foster brand collaborations.
Additionally, the use of tokens can help drive engagement by providing customers with exclusive benefits and rewards, such as discounts, early access to new products, and other special offers.
29. Shopify CLI improvements
Shopify CLI 3 now offers integration with CI/CD pipelines, allowing developers to perform actions like pushing, pulling, and publishing a theme directly from the pipeline.
Additionally, the updated CLI provides context-aware autocompletion and in-line documentation when writing Liquid code, making it easier and more efficient for developers to write and debug their code.
30. Global Shopify Cart
Shopify Cart is now deployed globally to the edge for faster response times, leveraging the same infrastructure as storefronts. The deployment is being rolled out in phases, and the interoperability of carts across storefronts allows for a shared cart experience across different channels, such as mobile and web.
Furthermore, Shopify Cart also allows developers to extend the cart schema with custom values using metafields. This enables unique logic on checkout or the ability to trigger a checkout extension, giving developers more flexibility and control over the cart experience.
Let's Upgrade Your Shopify Store
The Shopify winter updates bring in new opportunities for online retailers to thrive in the market. With improved functionalities, it'll become easier for store owners to go online, find new customers, up/cross-sell, and even optimize their operations for greater profitability.
However, getting the most out of these new features isn't possible without the right method of eCommerce development. Hence, it's recommended for online retailers to work with eCommerce development experts to build a robust and best-performing online store with omnichannel capabilities.
We at Techtic have been helping online retailers for more than a decade and know how to implement Shopify functionalities. If you're looking to build a new store or upgrade your existing one with these new Shopify features, you should get in touch with us.