Shopify Summer Edition 2023: It's Going Open to Developers
Sector: Digital Commerce
Author: Nisarg Mehta
Date Published: 08/23/2023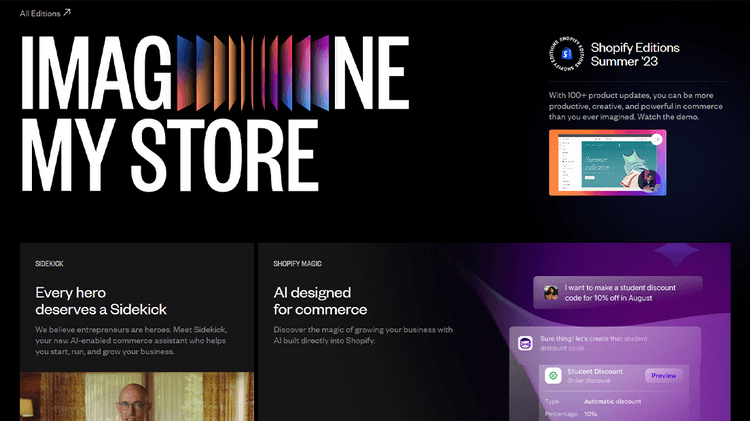 The latest release, Shopify Summer '23 Edition, showcases a plethora of enhancements tailored to developers. This edition signifies Shopify's continuous evolution of its developer platform, with dual objectives of enhancing the development process for constructing apps and storefronts while also expanding the extensibility of Shopify itself.
Notably, for developers creating public apps, Shopify has streamlined the pathway to get them featured on the Shopify App Store, enhancing their discoverability among merchants.
Top 10 Highlights of Shopify Summer Edition 2023
1. Artificial Intelligence for Retailers
Shopify is all about the retailers, isn't it?
The update had to feature them at the top. There were a number of improvements that they've made for the retailer experience. Let's explore them.
Sidekick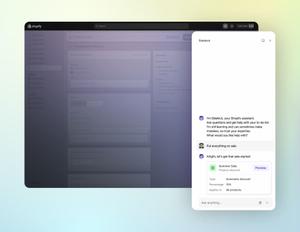 You retailers have the ability to enhance their stores using everyday language, streamline time-consuming tasks, and make more informed business choices.
Whether it's recommending optimal apps for your business or assisting with marketing campaigns, Sidekick can respond to queries, resolve issues, and accelerate your productivity.
Shopify Magic
Thanks to AI-powered functionalities integrated throughout the platform, retailers can now cut down on the hours spent on manual tasks and accomplish more, all at a quicker pace.
Here are some cool features of this functionality:
Upcoming smart replies: Soon, you'll have the ability to promptly review, edit, and address live chat inquiries using intelligent replies right within Shopify Inbox.
Immediate solutions: Utilize Shopify Inbox to publish tailored FAQs and responses that cater to individual needs.
Enhanced email performance: Leverage Shopify Email to craft attention-grabbing subject lines, craft captivating email content, and identify optimal send times for maximum effectiveness.
Finally, generative is here in Shopify.
Retailers can use Shopify Magic's AI-powered text generation to speed up writing. It suggests content like product descriptions, email subjects, and headings using the info provided.
Powered by Large Language Models (LLMs), it analyzes vast text data, learning patterns from books, articles, and web pages. LLMs handle tasks like answering questions, translating languages, and creating original content. Now you can generate text for:
Blog posts
Product descriptions
Shopify Email
Shopify Inbox
Theme editor
2. Shopify Mobile App
This edition of Shopify focuses on streamlining operations through a mobile experience, making it simpler to initiate, handle, and expand your business via your phone.
Here is what is new with the Shopify mobile app:
Effortlessly include new product media. Utilize the unified media picker to activate your camera or upload media from your device.
Transform products into sellable items by assigning a price and configuring them. The enhanced options and variants process simplifies product setup.
Access multiple stores easily through the new account drawer, which also provides tools for adding accounts or logging out.
Access essential commerce functions, apps, and channels conveniently through the revamped bottom bar and redesigned overflow menu.
3. A Whole New Admin Panel
Shopify has introduced a revamped admin interface featuring a refreshed visual design and a single-column layout for the home page.
This redesign enhances the overall experience by creating a more streamlined, focused, and functional environment. You can now concentrate on what truly matters without any distractions.
Updates to the design: Data and content are now presented with greater clarity, and interactivity is more evident within the admin interface. The new design incorporates improved fonts, icons, and higher information density, resulting in a more practical, efficient, expressive, and user-friendly interface.
Enhanced settings system: They've also made improvements to the settings system, ensuring easier navigation and quicker access to the specific content you require.
4. Flex Sections
Crafting personalized layouts for your online store is now more effortless than before, thanks to flex sections. By harnessing the power of CSS Flexbox, Shopify enables versatile responsive layouts that adapt in multiple directions, along with effortless content alignment within various sections of your store.
Now, with simple drag-and-drop actions, resizing, grouping, and editing, you can shape a store that truly reflects your distinct style.Now, with simple drag-and-drop actions, resizing, grouping, and editing, you can shape a store that truly reflects your distinct style.
5. Subscription Business Functionality
Retailers can now effortlessly establish and oversee uncomplicated subscription options using the newly introduced, complimentary Shopify Subscriptions app.
Through the addition of new customer accounts, your clientele gains the freedom to easily halt or skip orders, revise payment and shipping information, and enjoy other benefits.
For more intricate subscription requirements, you can always explore a diverse selection of specialized apps available in the Shopify App Store.
6. Shopify Brands
You can now explore high-quality products for sale from leading Shopify brands that will be shipped directly to your customers. You can easily connect with these brands, seamlessly add their products to your store within minutes, and earn a profit from your sales.
If you're interested in having your products featured by other retailers on Collective, learn about the process of becoming a supplier. Currently, this opportunity is open to select businesses located in the United States.
7. B2B is Here
Selling wholesale on Shopify is becoming more straightforward. With the latest enhancements to integrated B2B capabilities and the introduction of a curated network for sourcing and vending products, you no longer need to compromise between advanced features and the convenience of conducting B2B activities all in one platform.
Here are some cool highlights:
Vaulted credit cards on B2B
Company account requests
Volume Pricing
Updates to Catalogs, Order, and Draft Order API for B2B
Wholesale migration tool
Paypal payments on B2B
8. Marketplace Connect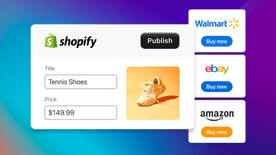 Now you can link your Shopify product catalog to leading global marketplaces such as Amazon, Walmart, and eBay. Regardless of where you choose to sell, you can simplify the process of handling your marketplace listings, inventory, orders, and fulfillment—right within Shopify.
9. Improved Checkout
Shopify has introduced 17 new APIs and made enhancements to checkout flexibility. These updates include features like apps being able to provide personalized delivery choices and verify addresses.
Custom apps can now integrate server-side validation logic into the cart and checkout process. Additionally, you can preview the one-page checkout, thank you page, and the new customer account page directly within the checkout editor.
Here are some more updates to the checkout:
Upsell and Pre-Orders
Cart transform for custom products
External checkout
Custom checkout fonts
Addressed Validation
Shopify Wallet
Product Bundles
10. Powerful App Development
The latest Shopify updates completely revamp the process of getting your app up and running, from its swift creation to deploying new versions:
Remix App Template
Our fresh Remix app template empowers you to construct highly dynamic apps using JavaScript. Now, crafting an app has never been simpler. Authentication becomes a mere function call, GraphQL is a function accessible post-authentication, and webhooks are effortlessly integrated as a route.
Config as Code
Employ the shopify.app.toml file in your app's main directory to manage all your app settings. This enables a streamlined, CLI-focused workflow for more easily defining, testing, and collaborating on app configurations. Develop multiple configuration files and switch between environments swiftly during app development.
Unified App Versioning and Deployment
With app versions, you can now bundle your extensions into a single package and deploy them through the CLI, creating a seamless end-to-end CI/CD workflow.
Extension-Specific and Organization-Wide Custom Apps
Construct custom apps utilizing extensions and host them on Shopify, eliminating the necessity for external hosting providers.
Simplified Initiation
Effortlessly generate a development store with comprehensive commerce data by signing up for a Shopify Partner account. Benefit from enhanced improvements in the dev docs for a more effective learning experience, including a two-column layout in structured tutorials, making the onboarding process more intuitive.
Want to Implement the Latest Features?
Getting the latest updates to your Shopify store is tricky. There are chances that you lose your entire data or damage your site structure; payments may stop working just because you couldn't integrate the right way; and many more things.
Hence, it's always advised to go with Shopify experts. Being among the most experienced Shopify development company, Techtic has helped hundreds of Retailers, both small to large, get the best out of Shopify's functionalities.
So, if you want to update your online store with the latest Shopify Summer Edition, get in touch with us today.