What are Significant MVP Business Examples and their Benefits?
Sector: Digital Product
Author: Nisarg Mehta
Date Published: 04/05/2021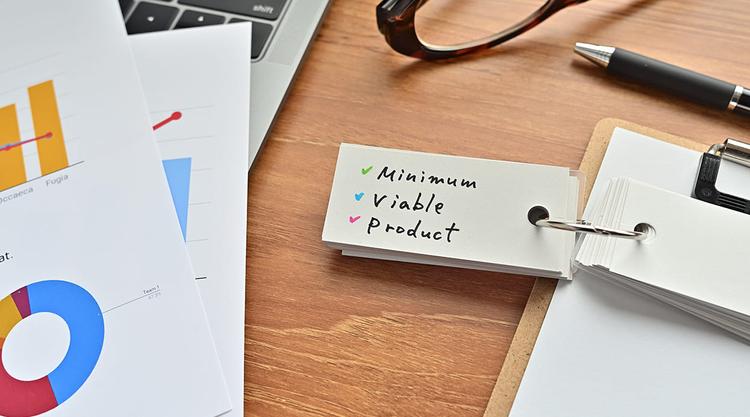 If you want to build your technology product and you are currently fixed up, you have landed at the correct place. Here in this blog, we have discussed 12 business examples that have succeeded with their MVPs and transformed themselves into flourishing companies today with their innovative products.
If you want to explore successful Minimum Viable Product (MVP) examples to get guidance on your product development, this article will definitely help you.
Importance of MVP
According to Statista, around 25% of apps get abandoned after being utilized merely once. However, their numbers in app stores are increasing quickly, and the rivalry is getting cut-throat.
For winning in this scenario, onboarding a minimum viable product (MVP) is the right decision. The MVP displays a product version with sufficient features to satisfy early adopters' requirements and enable them. The MVP technique is beneficial; however, it demands critical thinking within the minimum and utmost levels.
MVP is the foremost working product version, with minimal functionalities to convince likely customers and gather & analyze their feedback for the subsequent product versions. This initiative demands nominal resources and comparatively lesser efforts. The comprehensive product is built after detailing the concerned user feedback and industry-based analytics, which reduces the possible risk involved in launching a full-fledged product.
Read More: What is MVP and how it's beneficial for product development?
12 Successful Business Use Cases as MVP Examples
1) Airbnb
Airbnb, Inc. operates a digital marketplace portal for lodging, homestays, travel activities, and vacation rentals across the globe.
How the company came up with an MVP Idea:
Soon after shifting to San Francisco in 2007, former schoolmates and then roommates Brian Chesky and Joe Gebbia were finding it hard to pay for their apartment rent. So, both came up with the idea of placing an air mattress right in their living room and quickly turned the same into a bed & breakfast service.
The initial objective was to make a few bucks and pay their rent; however, they soon recognized that offering bed and breakfasts as a service could be a highly profitable business. They created a website; however, they kept struggling to find users to utilize their platform. They then targeted the audiences of Craigslist. By offering homeowners a choice to automatically post to the Craigslist portal, Airbnb succeeded in converting multiple customers, and the rest is history.
Current Success of the Company:
Operating an Airbnb property can even deliver five or six figures in yearly revenue for those who have manifold listings. Airbnb reported Q4 revenue of around $859 million in 2020, regardless of the COVID-19 crisis and its 'frenzied' IPO.
2) Amazon
Amazon.com, Inc. is a USA-based multinational technology organization, which focuses on cloud computing, eCommerce, and digital streaming services.
How the company came up with an MVP Idea:
In the initiation of the 1990s, Jeff Bezos explored a report describing the future of the internet that forecasted yearly online business growth and maturity at 2,300%, which sounded highly lucrative.
Bezos built a list of 20 products that could be promoted online. He compacted the list to five best products: computer hardware, compact discs, computer software, videos, and books. Finally, he decided to sell books online because of the global demand for low-priced literature and a massive number of titles accessible in print.
Consequently, Amazon was founded, and Bezos built a straightforward website covering merely a catalog of books. When a customer ordered one, Amazon purchased it from the distributor and shipped the same.
Current Success of the Company:
With business maturity, Amazon purchased warehouses, currently sells numerous products, and customized its site for every visitor. As per Forbes, Amazon is today the world's 3rd largest retailer.
3) Twitter
As we all know, Twitter is a top-rated USA-based social networking portal on which users post and engage with messages as "tweets".
How the company came up with an MVP Idea:
When Apple introduced iTunes in 2001, podcasting business Odeo realized they were in for a bumpy ride. The complete business model of Odeo was at risk. However, Odeo thought innovatively and initiated running hackathons, a new SMS messaging service known as 'Twttr'.
Primarily, this idea and its implementation were merely utilized by the Odeo staff internally. However, Odeo's employees started investing time, effort, and money posting on this platform, and Odeo realized a business opportunity on their hands. 'Twttr' assisted Odeo pivot in turning into 'Twitter' and rapidly scaled the business.
Current Success of the Company:
Keeping it straightforward and letting the community work out how they want to utilize it has helped make Twitter one of the most thriving companies going around. The social media site has more than 330 million monthly active users.
4) Dropbox
 Dropbox is a file hosting service run by the USA-based company Dropbox, Inc., that provides cloud storage, file synchronization, and software solutions.
How the company came up with an MVP Idea:
The founders came up with their idea and concept for a cloud-based file-syncing service. However, they quickly realized that developing the fundamental hardware infrastructure would be exceedingly time-consuming and high-priced. So they didn't!
Their MVP was an uncomplicated explainer video displaying how the Dropbox service would work, although none of the services was in reality built thus far. The video was immensely flourishing and resulted in 70,000+ signups.
This simple video let Dropbox's founders analyze the prevalent risk involved in their business swiftly and inexpensively. It also provided feedback that facilitated them to confirm their core assumptions.
Current Success of the Company:
Dropbox had stiff competition, yet most of them have since closed down or had restricted success. However, Dropbox has revenue of $487.4 Million (2020), which has risen by around 14% year-over-year, right from their MVP.
5) Groupon
Groupon is a USA-based global eCommerce portal that connects its subscribers with domestic merchants by providing travel deals, goods, and services at a discount rate.
How the company came up with an MVP Idea:
In the late 1990s, discount vouchers and coupons were in the trend, and Groupon's innovative idea was to make it simpler for everyday people to relish the best deals. Their business concept was uncomplicated; they launched up a straightforward website. If visitors demanded to get coupons, they easily subscribed, and the Groupon team mailed them a series of coupons in PDF format.
They developed a WordPress site and speedily collected a massive email list of their registered customers. The company's primary website is one of the best minimum viable product instances for entrepreneurs looking to test their ideas and concepts with minor investments.
Groupon converted these leads into revenue and utilized those funds to develop a backend and voucher system.
Current Success of the Company:
The company has experienced incredible success for numerous reasons, and one of them was its successful MVP. Today the business has plentiful paying customers, and the annual revenue of the company is $1,417.
6) Buffer
Buffer is a web and mobile-based application created to handle accounts across different social networks by offering facilities to schedule promotional posts on social media sites and analyze their engagement outcomes.
How the company came up with an MVP Idea:
The founder of the company had an innovative idea. He wanted to take the demand of many customers who wished to have scheduling functionality and make that solitary feature a splendid one.
The founder built a landing page to see if adequate people were fascinated by the product to make it a lucrative project. After attaining numerous registrations, he created the foremost version of the application software in 7 weeks.
The preliminary version of Buffer enclosed narrow functionalities and characteristics which merely enabled access to Twitter. In a short span of 4 days after the application launch, the company closed its first paying customer. The users then increased to 100,000 across the subsequent nine months.
Current Success of the Company:
By December 2019, the team worked from 15 nations globally, had 4.5+ million registered users, and made more than $16 million as yearly revenue.
7) Uber
Uber Technologies, Inc. is a USA-based company with services comprising ride-hailing, package and food delivery, couriers, and transportation.
How the company came up with an MVP Idea:
In 2008, the company's founders were irritated by the elevated price of cabs in San Francisco and the lack of cost-effective transportation substitutes.
Their MVP idea was to pair drivers who were willing to take passengers with people who required a ride, which showed promising results. As per the positive outcomes, most businesses would have boarded on the temptation of building a well-designed application or fancy website. However, the founders of Uber were visionary; they quickly realized that if they commenced in full swing and scaled the business too rapidly, their concept would get killed before even getting off the ground.
So, they first launched an MVP application, 'UberCab', which only worked on iPhones or through SMS and was only obtainable in San Francisco. However, this app assisted the founders in proving that their unique ride-sharing business initiative had a market. The MVP helped them to verify the considerable risk with minimal costs and efforts.
Current Success of the Company:
Data from the application helped Uber scaling its business operations, and it turned into one of the most highly esteemed companies across the globe. The revenue of the company was 1,414.7 crores USD in 2019.
8) Facebook
Facebook, Inc. is a leading USA-based technology conglomerate based in California, founded by Mark Zuckerberg and his roommates at Harvard College.
How the company came up with an MVP Idea:
The founders came up with a straightforward idea, what if they could create a technique for people to share connections and stories with their family and friends?
When they launched the company in 2004, the platform was only accessible to Harvard students, presenting a sense of exclusiveness that was not obtainable elsewhere.
The founders' approach shuns the downsides that other networking sites faced, like investing heavily on the development side, scaling too quickly, and not offering users what they needed. Facebook was steadily rolled across the U.S.A institutes and finally across the globe. This scenario helped the concept achieve traction and scale resourcefully until it became the leading social network that we know.
Current Success of the Company:
Facebook has added immense numbers of new functionalities and features to launch the world's most flourishing mobile application. Since their MVP, the company's overall revenue has boosted up by 11% year over year to $18.69 billion.
9) Foursquare
Foursquare is a highly reliable, independent location data and technology-based platform which works for and enables consumer products and business solutions.
How the company came up with an MVP Idea:
Seeing a gap across location intelligence, the company's founders decided to introduce a feature on their portal for making their users smarter by increasing their location reachability.
In 2009, when it was introduced, it was a simple app enabling people to check-in at a specific place: no extraordinary design, no exceptional functionality, merely a single-feature MVP. Today, the site has more than 55 million monthly active users, and its application has an average of 9 million day-to-day check-ins with advanced features.
Current Success of the Company:
Foursquare is a free app and earns by in-app advertisement to its users. The company achieved more than $100 million in revenue in 2019.
10) Virgin Airlines
Virgin Airlines is one of the biggest and highly recognized British airlines operating worldwide and is owned by famous personality Richard Branson.
How the company came up with an MVP Idea:
The MVP idea for Virgin Airlines came up to the founder and was to test the enablement of a single route and single plane flying amid Gatwick and Newark.
They realized MVP with the assistance of one aircraft that traveled the same route to verify and confirm the involved business hypotheses. They increased Aeroplanes and routes as the business matured.
Current Success of the Company:
The airline successfully runs across domestic and global destinations of cargo, passenger, and mail flights. Virgin Airlines generated maximum net profit in the year 2016, of 180.9 million British pounds.
11) Spotify
Spotify, founded in 2006, is one of the biggest global media services providers and audio streaming company, headquartered in Sweden.
How the company came up with an MVP Idea:
The music industry in the year 2006 was in front of a massive challenge as due to the use of free file sharing sites, fewer people were paying for original music. The founders of Spotify recognized that legislation would take more time, so they came up with a novel MVP idea to build a free music streaming service and utilize advertisement to generate funds.
The founders saw that most music streaming startups were investing in showy sites and mobile applications without even testing their concept in front of music industry challenges. So, the founders decided to take the initiative and built an MVP in the form of a desktop application that provided single functionality, and that was music streaming.
They soon after added customers' preference to pay a monthly fee to get an advertisement-free experience. This approach lets them try out their business concept while keeping their funds and risks in check.
Current Success of the Company:
The company swiftly signed up artists, built a mobile application, and scaled up on resources once they confirmed their idea successfully through an MVP. They currently have 345+ million monthly active users, together with 155 million paying subscribers across the world.
12) Yahoo
Yahoo is a USA-based web service provider firm, with head-office located in California and operated by Verizon Media. The firm works as a search engine, news site, email services provider, answers portal, and much more.
How the company came up with an MVP Idea:
Back in 1998, when the founders of Yahoo introduced the company, it was nothing more than merely a landing page with direct links to external websites. However, seeing results through tremendous web traffic, the founders recognized they had a prospective business that can yield them success.
Yahoo displayed itself as an MVP web portal, a single-page site that contained links. However, this was an adequate amount of functionality to convince the users and keep hold of early adopters for their modern-day business solutions. The same business solution then turned into a leading search engine across the globe.
Current Success of the Company:
Yahoo's fourth-quarter revenue in the year 2020 rose from $1.7 billion a year ago to $1.83 billion all through the quarter just ended.
How to Speed Up your MVP Development?
Now that you've inspired from the above businesses to build an MVP for your product or service, here is how you can speed up its development-
1. Enable Market Research & Confirm MVP Concept
A winning MVP strategy is enclosed in a precise business master plan. You must relate your plan with minimum viable product examples and define a product vision. The market to introduce your MVP product is significant to take into consideration, as competing with current services would be tricky and challenging.
Explicitly analyzing your rivals and shaping an improved but unique product with superior quality is the need of the hour. Your product must have distinctive functionalities, unique feature sets, better design, and enhanced performance levels. You can sharpen these characteristics further to deliver a compelling and incomparable user experience through your product.
It would be best if you further considered the involved client segments, customer relationships, diverse delivery channels, pricing structure, profits, and revenue streams attached to your product. So, by researching and discovering the market perspective, you can shape and confirm the MVP scope.
2. Strategize MVP Functionality & Primary Features
For building an MVP example of your application, it is a prerequisite to decide the primary features and take apart those from components, which can add to subsequent product versions. You can use advanced tools to prioritize the feature sets better. These tools can help split the MVP functionalities into Should Have, Must Have, Could Have, and Needless features.
3. Develop, Measure, and Learn from MVP Examples
The purpose of an MVP is to scale and expand a business in the long term. Hence, it is significant to enable your project to initiate from an MVP example and to have a measurable approach. You need to have precise project development processes with talented MVP development professionals who can build, measure, and learn along with the project.
The MVP approach involves you engagingly exploring and learning about your users with minimal effort. At the same time, your development team gets the requisite feedback and works consequently on the subsequent product version or making a project concept pivot.
A measurable MVP reduces the risk of building redundant MVP products while trimming down the time and involved costs. This scenario is also advantageous as it boosts the product appearance and helps create opening customers while product enablement is in the process. Furthermore, a precise MVP strategy helps fine-tune the development procedures swiftly and with lesser efforts.
We saw how MVP helps test your product strategy and analyze your product's features as per relevant responses. Now you can uncover how to develop your own MVP through two diverse approaches.
How to Develop your own MVP?
Approach 1: Build MVP with your In-house Development Team
You can easily download and utilize our DIY MVP template to develop your own MVP in three momentous steps with your team's help. You can get the correct path on how to allow your product concepts using this significant template. Your in-house team can reduce efforts, risks, time, validate the product ideas and build a successful MVP at lesser costs.
Read More: Healthcare MVP Development Process & What it takes to Build?
Approach 2: Outsource your MVP Development Project
You can hire one of the expert app development companies, and this company can lead you with precise MVP development. So, you can outsource your MVP development to a proficient team of specialists to mutually plan and further implement your project for success.
Get your MVP Now
An MVP approach and choosing the right development partner is vital for any company to speed up its product journey. It is an excellent way to focus on your product's goal and objective, why it is essential, and to whom it should be targeted for business accomplishments.
[widget id="text-31″]
If you are looking for MVP development or need a technology partner, we at Techtic Solutions can always help you with successful project development, implementation, deployment, and technical support. Let's discuss your MVP requirements now.