Time to Increase E-Commerce Conversions for the Holiday Season
Sector: Digital Commerce
Author: Nisarg Mehta
Date Published: 03/14/2023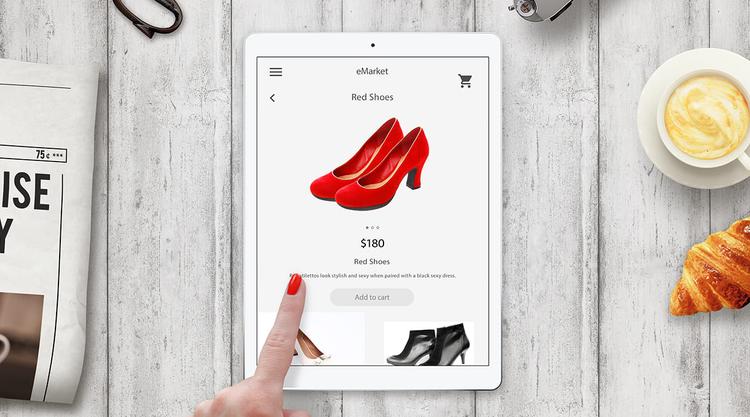 It's time to get ready for the holidays, but you're not the only one thinking about them. During this season, e-commerce stores generally offer free shipping or other holiday promotions to boost sales, which means you must be at the top of your game to keep up.
E-commerce holiday sales are projected to grow by 12.8% this year to reach up to $264 billion.
And, considering the trend and the fierce competition you'd face, how can you make sure that your e-commerce store outperforms this holiday season?
10 Ways to Increase E-Commerce Conversion During Holiday Season
Use the following techniques to boost conversion this holiday season:
1. Leverage Ad Retargeting
During the holiday season, retargeting can be particularly effective because the shoppers might be looking through multiple different tabs for multiple different products at the same time.
Shoppers have extremely diffused attention spans, so their chance of bouncing from your page or not completing a purchase is extremely high. Using ad retargeting, you can get a second or third chance based on their behavior.
Imagine customers dropping off your website after looking through several products. You can send these customers personalized ads to encourage them to finish their purchases (or offer free shipping or a special discount if they complete their purchases within a specific time period).
Ads retargeted during the holidays can even help you lower your abandoned cart rates. You can use the time-bounded offer technique to entice your customers.
2. Offer Unique Discounts to Loyal Customers
According to Deloitte, 49% of consumers expect brands to always send personalized promotions in line with their preferences.
Even during the holiday season, consumers stay in the 'save rather than spend mindset, so they will be seeking bargains. You can use personalized coupon codes to treat your loyal consumers following that mindset.
Offer discount for recently browsed or saved to wishlist products
Offer discounts based on loyalty status
Offer location-specific deals and coupons
Offer personalized freebies for different spending amounts
3. Run Discount Countdowns to Create a Sense of Urgency
Countdown timers create a sense of urgency, compelling consumers to act quickly before the item is sold out. It is because our brains are persuaded (by FOMO feelings) to want the fleeing thing before it's gone.
Here is how you can leverage the fear of missing out to boost your e-commerce conversions this holiday:
Use countdown timers in your emails to promote short-term discounts for high-value, signature products. Keeping these sales offers semi-private helps prevent brand dilution. At the same time, you can still get a boost in online sales.
Place a feature countdown banner on your website for the most in-demand items (or ones you wish to position as such). By putting a timer next to every item, you remind shoppers that time is running out soon, making them more likely to complete their purchase (rather than collect items in their cart). If your website looks messy with timers next to each item, you can put a sticky banner at the header.
4. Offer BNPL Options
Installment plans of the past are now available in digital format through Buy Now Pay Later (BNPL). Shoppers can break up high purchases into several payments over several months.
The percentage of Americans using BNPL has more than doubled from six percent in 2019 to 36 percent in 2021. BNPL use has more than doubled among Millennials, and it is gaining popularity with Gen Xers and even Boomers.
When consumers are shopping for gifts, they often spend large amounts of money. Because BNPL helps consumers convert, even if an item is outside of their current budget, it is a great way to increase your e-commerce conversions during the holiday season.
It's not just about persuading users to overspend. Many individuals prefer BNPL even if they have the cash because of its flexibility during economic downturns. To establish BNPL, choose a BNPL company you trust (PayPal, Affirm, Klarna, etc.) and highlight it on your homepage and checkout page.
5. Create Holiday Gift Guides
It's mentally draining for some shoppers to find the right present for various recipients during the holiday season. To help them out in this journey, you can create a series of holiday guides featuring your products.
Go beyond the standard "For Him/For Her" categories, get creative, and think of novel gift ideas. For example, according to Pinterest, last year, holiday shoppers were seeking:
Sustainable gifts ideas
Self-care package gifts
Personalized gifts
Teacher/College Christmas gifts
Snail-mail gifts
You can use last year's shopping customer data to determine which gift categories will work best for your customers. Then set up dedicated holiday landing pages for them and optimize them around relevant search queries.
An SEO-optimized holiday guide or product landing page can drive extra search traffic to your website and guide returning customers to the correct location.
6. Optimize Website Load Times
Another important way to increase e-commerce conversions is to improve page loading times. According to Retail Systems Research, 52 percent of online shoppers say they get annoyed when the website has slow load times.
Researchers also discovered that 90% of consumers would drop off a website if it took too long to load. When a site loads slowly, shoppers are 21% more likely never to return, 41% more likely to buy from Amazon, and 57% more likely to shop with a similar marketplace.
The ideal loading time for your webpage is below 2.2 seconds. You can check your web pages' loading time on Google's PageSpeed Insights.
7. Offer Fast Delivery
Customers consider shipping charges and transit times when making purchasing decisions during the holiday season. According to Baymard, 49 percent of consumers abandon their shopping carts because the cost is too high, and 22 percent leave because delivery takes too long.
McKinsey found that 90% of US customers expect their orders to be delivered within two to three days. Moreover, 30% expect their orders to be delivered on the same day.
Customers always wanted fast delivery, but it has become popular recently, and during the holiday season, delivery time will be the key concern. Amazon is a wonderful example of speedy delivery. Customers can receive Prime delivery via Amazon Now in as little as one hour after ordering.
Some customers may even find expedited delivery, particularly during the holiday season, to be more appealing than free delivery. Since they receive their item quickly, they will likely return to your site in the future. They may even tell their family and friends about it.
We aren't discouraging the free shipping option. You may charge a delivery fee for rapid delivery and offer free delivery (of course, within a couple of days delivery option) at the same time.
According to a recent report by Jungle Scout, 80% of consumers expect free shipping when ordering products of a specific amount, and 66% of consumers expect free shipping for all online orders. They are ok to walk away if it is not provided.
8. Provide Gifting Options
Having products gift-wrapped is an excellent method to enhance the product's value. Gift wrapping is a wonderful way to sweeten the deal, particularly for people who are short on time. It is also an excellent option for people purchasing items to send to relatives and loved ones who live far away.
A retargeting ad with gift wrapping can also provide a small push for people to return to your site, which can increase the total order value by keeping people on the site and encouraging them to purchase more items.
9. Create Shoppable Instagram Posts
You can boost your social commerce success on Instagram by utilizing product tags across various formats in feeds, stories, Reels, IGTV, and captions. With this technique, you can cater to all parts of the platform where people spend their time.
Furthermore, by regularly utilizing product tags to create more shoppable posts, you can connect with new shoppers and improve your overall e-commerce conversion rate.
You can even leverage the social proof of your customers posting your products on Instagram. Positive feedback and conversations about your brand or product build up trust amongst your customers and can help improve conversions.
By using e-commerce plugins like Yotpo, you can appeal to this desire. According to Business News Daily, 92 percent of people trust family and friends above all other forms of advertising when making a purchase. So by bringing user reviews and social channels such as Instagram directly onto your product pages, you can easily build trust and sales.
10. Pro Tip - Target Long-Tail Keywords
If you're into e-commerce SEO, you already know that keyword targeting becomes hypercompetitive during the holiday season. People who are already ranking for high-value keywords such as "Best holiday deals" or "Christmas gift specials" have put months (or years) of effort into earning that valuable spot.
Spending too much time and money trying to rank for those terms is a waste of resources and diminishes the more substantial results you could achieve.
During the rest of the year, many eCommerce stores focus on general SEO rather than festive keywords. You can leverage this by targeting long-tail festive keywords early on, such as "best Christmas gifts for the 25-year-old snowboarder."
For example, you might not be able to rank for "best video game gifts," but you may be able to rank for "best video games for kids under 10 in 2023". Less competitive long-tail keywords may also generate significant traffic that is easy to convert.
The tactics listed above are a good beginning to boost eCommerce sales over the holidays. For a successful eCommerce holiday campaign, you must utilize creativity. You may also experiment with various A/B tests to see what works best for your website in your sector.
Consider the holiday season as a science project where you learn from industry benchmarks and other less popular strategies. However, if you can incubate ideas and tactics that work for your website in your industry, you will gain the greatest advantage.
Here is our recently published e-book to help you identify whether your e-commerce store is ready for this holiday season.