The Future of HealthTech: Trends for 2023 and Beyond
Sector: Digital Product
Author: Nisarg Mehta
Date Published: 04/25/2023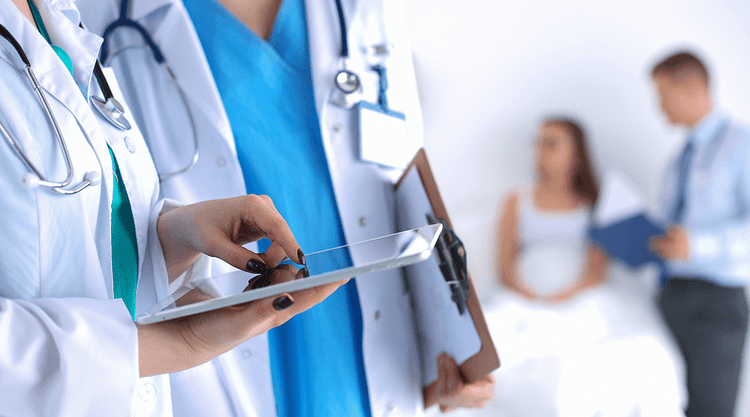 The COVID-19 pandemic put modern global healthcare systems to the test and revealed systemic issues and inequalities, leaving many systems struggling to recover.
However, it also demonstrated the effectiveness of new ways of working and digital tools to tackle industry challenges while driving innovation in science and medicine development, distribution, and delivery.
The healthcare sector faces ongoing challenges, including worsening mental health, workforce shortages, supply chain issues, climate change-related problems, and macroeconomic instability in the near term. Longer-term challenges include increasing demand for services, a growing funding gap, limited incentives for innovation, disparities in overall health and wellness, and uneven access to advanced therapies.
These challenges are interrelated and complex, making it a pressing global concern to reshape healthcare systems to address them.
Technology is coming to the forefront to tackle these challenges. From predictive analytics to automation, healthcare is going digital. Let's know the top HealthTech trends of 2023 that are reshaping the future.
7 HealthTech Trends for 2023 and Beyond
1. Precision Medicine, Powered by Multi-Omic Technologies
Next-generation sequencing technologies are playing a vital role in precision medicine. Multi-omic technologies are leading the next phase of precision medicine, which includes genomic and proteomic analysis, as well as transcriptomics, metabolomics, epigenomics, microbiomics, and phenomics.
Until recently, these technologies focused on genomic and proteomic analysis.
These omics solutions offer a detailed understanding of human health by giving insights into the molecular changes or characteristics that can affect health, cause illness, or help make clinical decisions.
One recent example of this is Biomodal's duet multiomnics solution. It is the world's first sequencing technology that allows the reading of genetic and epigenetic information in a single sample, with one workflow, using any sequencer. It achieves single-base resolution and can read both types of information at the same time.
2. Personalized Care Through Health Data
Healthcare is moving away from a one-size-fits-all approach and shifting towards a personalized approach through the emerging concept of precision medicine. This approach will involve customized treatment plans and medication based on various factors, such as age, risk factors, genetics, and more.
With the help of AI and ML, it will be possible to predict the effects and side effects of specific drugs based on a patient's genetic information.
A recent partnership between CueZen, a health personalization engine, and Microsoft Azure Health Data Services aims to transform the healthcare industry. By combining CueZen's generative AI technology for health with Microsoft Azure's cloud services, the collaboration will offer more personalized patient engagement solutions to healthcare enterprise customers.
This personalized approach will empower patients to choose their preferred treatment plan and method of delivery based on their individual circumstances and preferences. Personalization is not just limited to healthcare, as it is a leading trend across all fields in 2023.
3. Remote Healthcare
The pandemic has significantly changed healthcare delivery as remote healthcare has become more prevalent. While physical appointments are always preferable and safer, both healthcare providers and patients have recognized that arranging healthcare remotely is cost-effective and convenient.
Remote patient management (RPM) applications enable home care agencies to monitor patients in their homes, helping them allocate their resources more effectively and prioritize patients in need of care on a given day.
Remote healthcare technologies like this allow caregivers to keep a watchful eye on patients from remote locations, improving the connection between patients and clinicians.
Another benefit of this improved communication is a decrease in unnecessary hospital or clinic visits, as patients receive constant and effective contact with their caregivers, leading to visits only occurring when necessary.
4. Workflow Automation and AI Addressing Workforce Shortages
According to a report from Mercer, the United States is projected to experience a shortage of 3.2 million healthcare workers within the next five years.
This shortage is expected to be driven by a combination of increased demand for healthcare services and a higher number of retirements compared to new recruits entering the field.
The shortage of healthcare workers is particularly problematic as health systems are struggling to cope with the backlog of procedures that have been postponed due to Covid-19.
As a result, many routine checkups, elective surgeries, cancer screenings, and other critical procedures have been delayed or canceled, potentially leading to missed opportunities for early intervention. This could result in more urgent and acute hospital admissions, ultimately putting lives at risk.
Workflow automation and AI are two technologies that are being used to streamline processes and improve efficiency in healthcare. By automating routine tasks, healthcare workers can focus on more complex and high-value tasks that require human intervention, such as patient care.
Workflow automation can help healthcare organizations optimize their operations by automating tasks such as appointment scheduling, patient registration, and insurance verification. This can help reduce the workload for administrative staff, freeing them up to focus on patient care.
AI is being used to support clinical decision-making and improve patient outcomes. For example, AI-powered diagnostic tools can help clinicians quickly and accurately diagnose medical conditions, allowing them to provide faster and more effective treatment.
AI is also being used to improve patient triage and optimize hospital bed utilization. By analyzing patient data, AI can help healthcare organizations predict patient demand and allocate resources more efficiently.
5. The Next Wave of AI in Healthcare
We've already discussed a couple of AI implementations in the healthcare space. But there are more AI trends for healthcare. AI is revolutionizing the healthcare industry by transforming how patients receive care and how healthcare professionals work.
One of the most notable applications of AI in healthcare is the use of natural language processing (NLP) to improve patient communication. NLP-powered chatbots and voice assistants can help patients access healthcare information and receive assistance with scheduling appointments or medication management.
AI is also being used to improve healthcare data analysis and predictive modeling. By analyzing large datasets, AI algorithms can help healthcare organizations identify patterns and trends in patient data, enabling them to develop more effective treatment strategies.
6. Internet of Medical Things (IoMT)
IoMT is a healthcare technology trend that is gaining momentum and is more likely to be one of the most promising developments in digital healthcare in 2023 and beyond.
IoMT is an IoT network of connected medical devices, sensors, wearables, and other healthcare-related technology integrated with cloud computing systems.
Wearable technology, such as smartwatches and pulsometers, are among the most popular devices that can be used to connect to the IoMT system. These devices collect data through sensors, such as heart rate, blood pressure, and body temperature, which can be sent to healthcare providers for review, diagnosis, and treatment.
The integration of IoMT technology is already transforming how Australians manage their health. According to a Deloitte Global Survey report, 1 in 5 Aussies use smartphones and other tech solutions to monitor conditions such as diabetes and hypertension proactively.
As consumers continue to take control of their own well-being, technology will play an increasingly important role in empowering them on their health journey.
7. Next-Wave of Digital Health Solutions
The post-covid world requires healthcare organizations to reconsider their digital strategies and develop new ways to offer virtual healthcare services.
Digital health companies now offer more accessible and convenient solutions, such as telehealth, at-home testing, and prescription delivery services, transforming how patients receive quality care and manage their health.
However, despite a record-high investment of $29.1 billion in digital health in 2021, many companies have faced difficulties navigating challenges like market saturation, insurance coverage, labor and supply shortages, and data privacy concerns.
In the coming year, digital health technologies are expected to face increased scrutiny to prove their value and demonstrate success.
Despite this, there is a strong drive toward the adoption of new solutions in this field. Many healthcare technologies will concentrate on improving access to care by creating a more integrated experience and generating data that can enhance the health of both individuals and populations.
Moreover, in the recent past, India has established a regulatory environment that encourages innovation, privacy, and security for digital health interventions. This approach can serve as a model for other developing nations to follow, says the UN.
Such advancements could pave the way for the creation of digital health ecosystems, connecting various stakeholders and providing valuable health data.
Conclusion - What the Future Looks Like for Healthcare
The healthcare sector is facing numerous challenges, but technology is coming to the vanguard to tackle them. The HealthTech trends we've discussed, such as precision medicine, personalized care, remote healthcare, workflow automation, and AI, are reshaping the future of healthcare.
As the world navigates through the ongoing COVID-19 pandemic, the importance of these trends is more evident than ever. These technologies offer an opportunity to create a more efficient, accessible, and patient-centered healthcare system.
The future of healthcare is digital, and those who embrace these HealthTech trends are poised to lead the charge toward a better, healthier world.