How Alexa Can Revolutionize Healthcare Industry?
Sector: Digital Product, Future Tech
Author: Nisarg Mehta
Date Published: 11/13/2018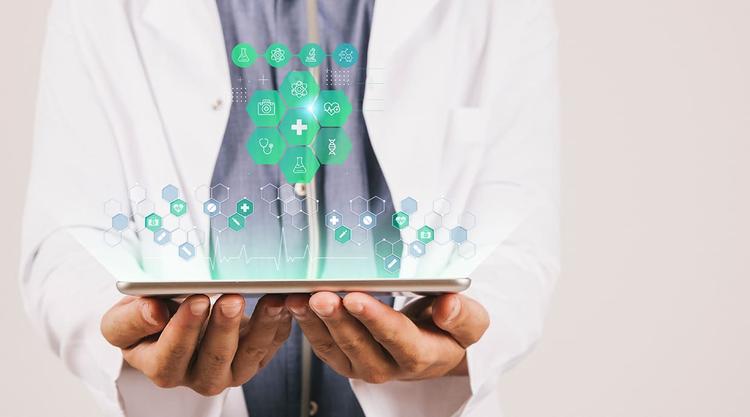 The voice assistant from Amazon has already made its mark in smart offices and the lifestyles of people. In the coming years, patients, nurses, doctors, and pharmacists will be integrating Alexa into their professional lives. Previously, reports had revealed Amazon working with its 12-member team on its 'health and wellness division. This is aimed to streamline the functionalism of the voice assistant, aligning it perfectly in the healthcare sector.
With the integration of the Alexa skills, the owners will be able to interact using their natural language with the platform. Besides news gathering, travel, weather, and entertainment, healthcare remain one of the most prominent segments to benefit.
Potential benefits of Alexa in the healthcare segment
Alexa brings a completely hands-free experience to the users. Even if they are bedridden, or unable to move, a simple voice command can activate Alexa and get things done. Besides, it is designed to withstand noisy environments and ensures a great clarity of sound. Have a look at the key potentials of Alexa in the healthcare industry.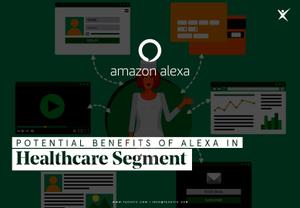 Healthcare professionals can use Alexa to access the portal of a patient, even without logging into computers.
Doctors and nurses can get across to the patients through Alexa voice assistant, answering their queries about symptoms, medications, and upcoming appointments.
Patients can request refills for medication from pharmacies and book appointments through the voice assistant. They can also communicate with nurses, hospital staff, and caretakers using Alexa.
Patients can also dispatch their medical reports to their physicians.
Handicap patients or those with poor eyesight can benefit from Alexa. The voice assistant can read Kindle books for them, play music or add online goods to the carts.
Alexa is programmed to record the patient's food intake and remind them of their scheduled food and medicines.
Alexa's listening capabilities may be incorporated in observing the quality of voice of patients, suffering from ailments like Parkinson's disease.
Patients can use Alexa to control the temperature of their room, music, TV, book cabs, and carry out other activities without leaving the bed.
Through voice commands, bedridden people can open and close doors, turn switches on and off, and so on.
Patients can also call for help under urgent conditions.
Future-proofing Amazon echo for the healthcare industry
In the first half of 2018, Amazon had announced that it had already sold off 30 million units of the voice assistant, which makes up 70% of the market. Here are some of the promising Alexa skills in the healthcare domain that patients will benefit from.
Interviewing patients about symptoms
Patients can convey their symptoms to Dr. A.I. by Health Tap, and get relevant suggestions regarding the possible causes of ailments. The skill learns more about the patient through interaction, providing detailed and useful suggestions. Symptom Checker is another skill, that has been designed to have similar functions. It takes the patients through a number of questions, clarifying the condition and suggesting a solution.
Monitoring health statistics
Certain Alexa Skills have been designed to monitor chronic disease conditions. These Skills gather data and manage a given medical condition, sharing them with the doctors. Merck, a pharmaceutical company, had organized the Alexa Diabetes Challenge, searching for Alexa Skills to deal with diabetes. The $125,000 prize went to Sugarpod by Wellpepper. This would enable the diabetic patients to improve self-care, with the voice assistant supporting them.
Information about drugs and medicines
Patients can use the Web MD Alexa Skill to find information from the National Library of Medicine and Food and Drug Administration regarding any drug or medicine, before actually popping them. However, the users need to speak the words aloud, before the voice assistant pulls up the information. As a result, patients can now be sure about the medicines they are taking, particularly if they happen to be unprescribed.
Connecting to hospitals and doctors
Various Alexa Skills are being launched for urgent healthcare facilities. These skills can be used to deliver the waiting time, phone numbers, and operational hours of various hospitals and clinics. The patients can view the details of individual healthcare institutions near them using the programs.
By 2040, the healthcare industry is assumed to be an $18 trillion industry. Digital tools like Amazon Echo will be bridging the loopholes existing in the present healthcare industry, making communication simpler. Forward-thinking companies are collaborating with reputed mobile app developers to build dedicated apps, integrated with these voice assistant features. The healthcare industry is all set to tap the benefits of digital technology in the coming years.