Building a WordPress-Based Subscription Platform curryboxco.com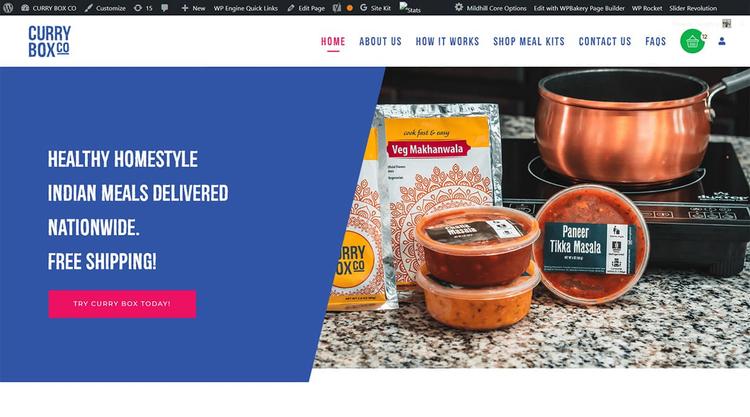 When Curry Box reached out to us at Techtic, they didn't have a subscription platform that would allow their customers to subscribe to meal kits that are slightly different from the traditional add-to-cart approach.
Curry Box is designed to take the stress out of a healthy lifestyle. The company delivers fresh, ready-prepared homemade Indian meals to the doorstep of Americans. Curry Box prepares their meal kits in India by trained Indian chefs and cooks them with perfection in their Chicago facility.
For every meal Curry Box delivers to their customers, they donate a meal box to "Feeding India" by Zomato.
Problem
Digitization of the Curry Box's business model.
Customer management without a centralized platform.
Lack of products promotion opportunities.
Nation-wide marketing opportunity loss.
There is no platform to educate customers about the novel products and services Curry Box offers.
Embedding advanced eCommerce functions like Multi-Level Discounts, SEO, and many more.
Creating an easy-to-operate backend platform for Admins.
Reporting and analytics.
Challenges
To create a modern design with minimalistic aesthetics to reflect Curry Box's brand image.
To create sales funnels for the backend.
To design catchy user experience and front-end layouts without hampering the customer learning curve.
Result
Increased repeated business with subscription-based product purchases and transparency in terms of ingredients.
A unique platform for customers to become a member of the company for getting various discounts/offers and multiple services etc.
Referral program for users to get rewards points and referral bonus.
Eye-catchy and trendy design website of Curry box make their customer feel more welcomed into your website.
Increased customer satisfaction and revenue for Curry Box.
Visibility of all product-related details like ingredients/ pictures/ quantity, certificates, etc.
Industry and Tech Stack
Tools & Technologies: 
WordPress, MySQL, WooCommerce
Services: 
Strategy, Development, Design
Client Says

"Thanks to Techtic Solutions Inc's work, we have witnessed a three-fold increase in conversion rates within the first six months. The team is very helpful, quick, and agile. Communication is thorough and efficient via email and Slack."
-Amanda S, Growth Director
@Mission MightyMe


-Daniel Protz,CEO
@Flavorwiki

"Techtic Solutions provides services fairly and at a great price. Both knowledgeable and communicative, the team strives for success and takes accountability for all their actions. Reports are timely and they manage the language barrier and some challenges in an effective manner."
-Kevin Garofalo, Chief Executive Officer
@Digital Marketing Agency

"The new site was completed successfully and has led to an improvement in the number of users reaching it as a result. The team managed the work effectively and maintained an excellent, personalized level of service throughout."
-Melissa Van Hise, CEO
@Iconic Pineapple

"The team provides responsive service and functional websites with high quality code. They are always available to communicate or make quick fixes. Customers can expect a great partnership and excellent results."
-Pete P, CEO
@Marketing & Seo Firm

"We have been using Techtic for over a year now, at multiple entities. I treat them as developers apart of my team and we have the ability to scale up in a few days if needed. They have been very receptive to feedback and the team stays the same."
-Hesom Parhizkar, Chief Technology Officer
@Wela

"The platform has received positive feedback for its performance and versatility. The team is innovative and well-suited for long-term partnerships. Coding is stable and deliveries are timely. They use a wide range of communication tools to keep the partnership effective."
-Hashem Omran, Co-founder
@Widelinked

"They are the best I've come across. The team stayed in constant communication while supplying deliverables in a timely manner. Their customer service exceeded expectations, providing great value for cost. The company's support has generated business growth and new opportunities for app. developers."
-Danny Salomon, CEO
@United Holdings Group

"The new functionality gives the app more potential and users are satisfied with the improvements. Techtic is trustworthy and has a good understanding of the technological tools available. They bring good ideas to projects and are supportive collaborators."
-Marcelo C, Founder
@Agohra
We Follow Agile
We encourage candid discussions and would be happy to offer consultation to understand and address your pain areas.
Our Process