Agohra On-Demand Delivery Network for Groceries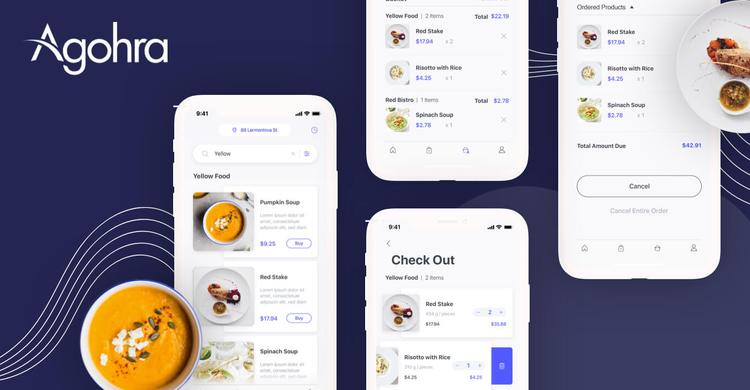 The concept of Agohra was born to tackle a plaguing concern – our lack of time. In this swiftly functioning world, time is something we find hard to make. In our distribution of time, we tend to lose out on some things that are crucial for our everyday lives, which is groceries. While we make time to finish our deadlines, pursue our hobbies, commute, maintain relationships, meet friends and do more, at the end of the day, we get back home with a long list of groceries we intended to buy.
That's where Agohra comes in.
Agohra happened when we met our client in North Carolina, who wanted to create an on-demand delivery network for groceries. He pointed out a very crucial problem, where people were too busy to go to the convenience store to pick and get their groceries, So, he wanted to develop a platform that would help people have a dedicated agent choose groceries from different stores in different locations and deliver them to their home. He shared the visions he had for the problem and how intends to tackle this everyday problem with technology and the on-demand economy.
Problem
When we were discussing the challenges in the development of such a platform, we realized that Agorah was to have a seamless user interface to accommodate the different types of functions the app has to deal with. For instance,
Challenges in integrating payment gateways,
Cost calculations
Bids management
Unique user interfaces for distinct users (agents and shoppers)
Managing text-to-speech for voice notes and additional information
Location tagging and more
The app has to ensure that checkouts for both agents and shoppers are glitch-free and that payments happen seamlessly. A shopper must be able to get the orders placed and delivered and the agent must have a payment-processed order to deliver. All these should be handled simultaneously and in sequence for n number of users accessing the app.
Challenges
When brainstorming for the solution, the team unanimously pointed out that building an MVP would be the most practical solution to test multiple scenarios and variables. If you notice, there are a lot of activities happening within a short period of time on the app. There's the list of items awaiting approval on the cart while the bid is placed. There's also the approved bid and payment initiation and so on. Besides these, the app also had to include a feature of convenience like speech-to-text conversion, which will allow the shopper to send voice notes to the delivery agent with product specifics.
So, we assembled UI/UX designers, writers, frontend and backend developers and others to build the MVP and finalize the order journey. After multiple tweaks and pivoting, the product worked and there were multiple users working on the platform at once, ordering groceries from different locations. All the features functioned as required as well, leading to a successful market evaluation.
Result
With the success of the MVP, we managed to raise funding for the service. We have also onboarded a Chief Technology Officer to ensure further scalability and stability. We carefully reviewed inferences and results from reviewing multiple scenarios, use-cases and challenges and built a full-fledged product with even better user interface and functionalities. The app is now available for both Android and iOS on their respective app stores.
Client Says

"Thanks to Techtic Solutions Inc's work, we have witnessed a three-fold increase in conversion rates within the first six months. The team is very helpful, quick, and agile. Communication is thorough and efficient via email and Slack."
-Amanda S, Growth Director
@Mission MightyMe


-Daniel Protz,CEO
@Flavorwiki

"Techtic Solutions provides services fairly and at a great price. Both knowledgeable and communicative, the team strives for success and takes accountability for all their actions. Reports are timely and they manage the language barrier and some challenges in an effective manner."
-Kevin Garofalo, Chief Executive Officer
@Digital Marketing Agency

"The new site was completed successfully and has led to an improvement in the number of users reaching it as a result. The team managed the work effectively and maintained an excellent, personalized level of service throughout."
-Melissa Van Hise, CEO
@Iconic Pineapple

"The team provides responsive service and functional websites with high quality code. They are always available to communicate or make quick fixes. Customers can expect a great partnership and excellent results."
-Pete P, CEO
@Marketing & Seo Firm

"We have been using Techtic for over a year now, at multiple entities. I treat them as developers apart of my team and we have the ability to scale up in a few days if needed. They have been very receptive to feedback and the team stays the same."
-Hesom Parhizkar, Chief Technology Officer
@Wela

"The platform has received positive feedback for its performance and versatility. The team is innovative and well-suited for long-term partnerships. Coding is stable and deliveries are timely. They use a wide range of communication tools to keep the partnership effective."
-Hashem Omran, Co-founder
@Widelinked
"They are the best I've come across. The team stayed in constant communication while supplying deliverables in a timely manner. Their customer service exceeded expectations, providing great value for cost. The company's support has generated business growth and new opportunities for app. developers."
-Danny Salomon, CEO
@United Holdings Group

"The new functionality gives the app more potential and users are satisfied with the improvements. Techtic is trustworthy and has a good understanding of the technological tools available. They bring good ideas to projects and are supportive collaborators."
-Marcelo C, Founder
@Agohra
We Follow Agile
We encourage candid discussions and would be happy to offer consultation to understand and address your pain areas.
Our Process