Shopify and Shopify Plus Development: When to use for your eCommerce Business?
Sector: Digital Commerce
Author: Nisarg Mehta
Date Published: 05/12/2023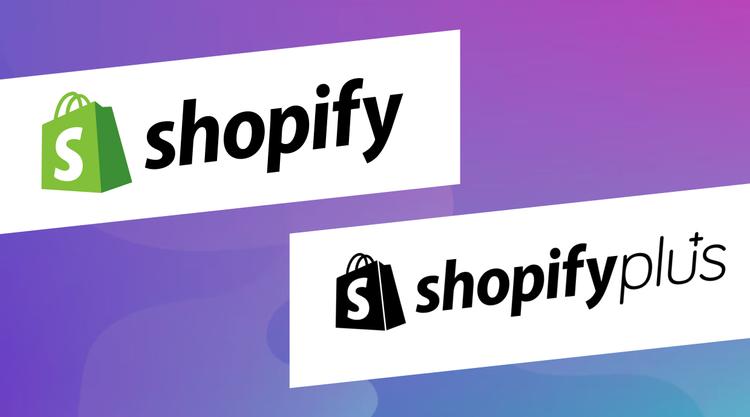 Shopify powers over 4.25 million eCommerce sites, and its reach extends to 175 countries worldwide.
If you're a retailer, you already must know Shopify. You might even have a Shopify store and are currently exploring the possibilities of upgrading to Shopify Plus.
Even if you don't have a Shopify store already, it's critical for you to know which approach to Shopify is the right one for you.
In this blog post, we'll explore Shopify Standard and Shopify Plus and help you understand which one is the right fit for you. We'll also cover how to get started with either of these approaches.
So without further ado, let's get started with the comparison.
Shopify vs. Shopify Plus - A Comparison
Every comparison starts at the feature level. So, let's compare the features that both these plans offer.
A. Shopify Features
Shopify standard plans include the following features.
1. Online store
With the Basic Shopify plan or above, you have the option to generate and personalize your online store for your merchandise and oversee it through the Shopify admin. You can modify the appearance of your store by utilizing Shopify's incorporated theme editor.
2. Blog
The online store offered by Shopify is equipped with a pre-installed blogging engine that allows you to post articles, keep your customers informed about any events or promotions and receive feedback and comments from them.
3. Staff
With Shopify, you have the option to include up to five staff accounts in your online store and allocate specific permissions to them. This allows them to perform duties such as adding products or overseeing orders.
Furthermore, you can enlist collaborators for Shopify Partners to work on your store while managing their access to designated sections through permission control.
4. SSL Certificates
Shopify facilitates SSL certificates, which provide encryption to your online store's content. As a result, you can securely publish your website using 'HTTPS' instead of 'HTTP,' and the SSL padlock icon will appear next to your online store's URL in the address bar.
5. Reports
The Shopify plan offers comprehensive reports that help you keep track of your business performance. It includes the following:
A dedicated analytics page
Product analytics
Financial reports
Live View
Inventory reports
Marketing reports
Acquisition reports
Order reports
Customer reports
Behavior reports
Sales reports
Retail sales reports
Profit reports
6. International Commerce
With Shopify, you can facilitate your global expansion using Shopify Markets.
Shopify Markets is a tool for managing cross-border operations. This feature empowers you to customize particular settings for each international region.
Additionally, the plan enables you to determine and collect import duties and taxes for your customers. You can also regulate the pricing in diverse markets through price percentage adjustments and by setting product prices by country or region.
7. Carrier-Calculated Shipping
By employing carrier-calculated shipping, you can collaborate with a third-party shipping provider to offer your customers the latest shipping rates and alternatives while they make a purchase on your online store.
B. Additional Features with Shopify Plus
The Shopify Plus plan encompasses all the features of the standard Shopify plans and goes beyond with additional perks. Here are the additional features that come along with Shopify Plus.
8. Shopify Organization Admin
The Shopify organization admin is an advanced version of the regular Shopify admin. For those managing multiple stores, it provides the ability to operate at an organizational level rather than focusing on individual stores. Users granted access to the Shopify organization admin can undertake actions across various stores within the organization, affecting users, stores, and Shopify workflows.
Here are some benefits of Shopify organization admin:
Organizational-level management: With the Shopify organization admin, you can manage multiple stores within your organization from a single location.
User management: The organization admin allows you to create and manage users, assign them roles and permissions, and control their access to different stores in your organization.
Store management: You can also manage your stores at an organizational level, making it easier to track their performance, configure settings, and customize features.
Workflow management: The organization admin provides a range of tools to help streamline workflows across multiple stores, including automated order processing, bulk product editing, and integration with third-party apps.
Customization: You can customize the organization admin to suit your needs, with the ability to create custom reports, dashboards, and workflows.
9. Wholesale Channel
The wholesale channel allows you to broaden your reach in the wholesale market by setting up a separate storefront that requires a password for access. This storefront is an extension of your existing online store, and all wholesale orders and customers can be tracked and managed within your current Shopify admin.
This storefront can have its own unique branding, pricing, and product offerings, and can be customized to fit the needs of each merchant's wholesale customers.
The Wholesale Channel also provides merchants with the ability to create custom pricing tiers and discount codes for their wholesale customers, as well as manage orders and payments all within the same Shopify admin.
Additionally, the Wholesale Channel offers features such as bulk ordering, minimum order quantities, and the ability to track order history and shipping information.
10. Script Editor
The Script Editor is a feature in Shopify Plus that allows merchants to create custom scripts to modify the checkout process of their online store.
With the Script Editor, merchants can create scripts that make changes to shipping rates, taxes, and discounts based on specific conditions and rules. These scripts can be written in Ruby, which is a popular programming language, and can be used to customize the checkout experience for specific products, collections, or customer groups.
The Script Editor also offers testing and debugging tools to help merchants ensure that their scripts are working correctly.
11. Launch Team
Shopify provides customer support through phone, email, and live chat. If you encounter any challenges, you can seek the services of Shopify Experts.
On the other hand, Shopify Plus provides specialized and exclusive assistance for your store. It designates a Launch Team for your online store, who will guide you throughout the entire process of setting up or migrating your store.
Additionally, the Launch Team can assist in tasks such as third-party integrations or partnering with experts to work on your projects.
12. Retail and POS
Shopify Plus provides merchants with a comprehensive solution to manage their in-person sales and retail operations. With Shopify POS (Point of Sale), merchants can easily integrate their online and offline sales channels, manage inventory, and track sales data all in one place.
Additionally, Shopify Plus offers a dedicated retail package, which includes advanced POS features such as unlimited registers, custom staff roles, and priority support. These features allow larger retailers with complex in-store operations to better manage their retail operations and provide a seamless shopping experience for their customers.
13. Headless Commerce
Shopify Plus supports headless commerce, which allows merchants to decouple the frontend and backend of their online stores, giving them more flexibility and control over the customer experience. This is made possible via APIs and integration with a wide range of third-party systems and technologies.
14. Automation
Shopify Plus features like 'Launchpad' allows you to automate and schedule the launch of sales campaigns and product releases. With Launchpad, you can create multiple events with custom start and end times and then schedule a variety of automated tasks to occur before, during, and after each event.
These tasks can include changes to product prices, discounts, product availability, publishing or unpublishing products, and even publishing theme changes to your storefront.
Launchpad helps streamline the process of managing complex product releases and promotions and can help reduce manual errors and save merchants time.
15. Shipping
With Shopify Plus, you can create custom shipping rules based on a variety of conditions, including destination, order size, weight, and product type. You can also offer real-time carrier shipping rates from major carriers like FedEx, UPS, and USPS.
Shopify Plus also lets you create your own shipping rates based on a range of criteria. This can be useful if you have unique shipping requirements, such as shipping oversized or heavy items.
You can also use Shopify Plus to manage multiple warehouses and fulfillment centers, as well as to set up drop-shipping and third-party logistics integrations.
Another key feature of Shopify Plus shipping is the ability to automate and streamline the fulfillment process. With features like order tagging and shipping profiles, you can easily route orders to the right fulfillment centers and automatically generate shipping labels and packing slips.
Lastly, Shopify Plus integrates with a range of third-party fulfillment and shipping partners, allowing you to streamline your entire fulfillment process from end to end.
16. ShopifyQL Notebooks
Shopify Plus offers a data analytics tool, ShopifyQL Notebooks. It is a data analysis tool that allows users to quickly analyze and visualize their Shopify data. It uses a combination of ShopifyQL, a powerful query language, and Jupyter Notebooks, an open-source web application that facilitates the creation and sharing of documents that contain equations, live code, visualizations, and narrative text.
With ShopifyQL Notebooks, users can easily query their Shopify data and create interactive charts, graphs, and tables to gain deeper insights into their store's performance. The tool also allows users to collaborate with their team members by sharing their analysis and code within their organization.
Furthermore, ShopifyQL Notebooks is fully customizable, allowing users to add custom code to automate and streamline their data analysis workflows.
17. Integration
Shopify Plus provides a range of enhanced API resources, including GiftCard, User, and Multipass, to help users take full advantage of third-party apps.
With GiftCard, users can offer an alternative payment method to their customers. Multipass login enables a seamless login experience for visitors, redirecting them to the Shopify store without requiring separate login credentials or the need to synchronize customer databases.
The User API allows users to manage staff accounts, including adding, removing, editing, and retrieving information.
Shopify Plus also offers the flexibility to integrate with custom apps or build private apps, giving users even greater control over their store's functionality.
Pricing for Shopify Standard Plans and Shopify Plus
One of the main benefits of using Shopify is that it includes web hosting expenses into its platform fee, eliminating the need to pay separately for website development and hosting. However, if you opt for additional features like customized themes, third-party plugins, or payment gateway integration, additional costs may apply.
Shopify offers a range of plans to suit different business needs, including:
Shopify Starter at $5 per month
Basic Shopify at $29 per month
Shopify at $79 per month
Advanced Shopify at $299 per month
For larger businesses, Shopify Plus is available at a monthly fee of $2,000. This is in addition to online store development costs, transaction fees, third-party services, and add-ons.
Which Plan is Suitable for Your Needs?
Thanks to the flexible pricing structure of Shopify, every merchant has a plan that's suitable for their needs. Here is a summary:
Shopify Starter: Suitable for those looking to sell on social media and comes with limited features.
Basic Shopify: Suitable for small businesses or storefronts for existing businesses.
Shopify: Suitable for larger businesses that require more robust tools, such as gift cards and cart recovery.
Advanced Shopify: Suitable for companies that require low transaction rates and priority shipping.
Shopify Plus: Used by large corporations that require custom functionalities and have a large user base, like Sony and Unilever.
How to Get Started
Shopify and Shopify Plus have different approaches to development. Shopify is very much a DIY approach, whereas Shopify Plus requires expertise. Let's discuss both approaches.
How to Build Your Shopify Store
Here is how you get started with Shopify:
Create a Shopify account: Visit the Shopify website and click on the "Get Started" button. Fill out the necessary information, including your email address, store name, and password, and click "Create your store."
Customize your store: Choose a theme that best represents your brand and customize it by adding your logo, selecting colors and fonts, and arranging your homepage.
Add products: Click on the "Products" tab in the Shopify dashboard and add your product information, including images, descriptions, and prices.
Set up payments: Choose a payment gateway and set up your payment options to allow customers to pay for their orders. Shopify supports multiple payment gateways, including PayPal, Stripe, and Shopify Payments.
Configure shipping options: Set up your shipping rates, including domestic and international shipping fees, and configure your shipping settings based on your preferences.
Test your store: Preview your store to ensure that everything is working as expected. Test the checkout process, including adding items to the cart and placing orders, to ensure a smooth customer experience.
Launch your store: Once you're satisfied with your store, click on the "Launch Website" button to make your store live. Congratulations, you're now online!
How to Build a Shopify Plus Store
As mentioned earlier, to build a Shopify Plus store, you'll need eCommerce experts onboard. Whether you're upgrading to Shopify Plus or building it from scratch, you'll be required to perform several technical tasks.
Techtic can help your company get on Shopify Plus and reap the benefits to their fullest extent. We've helped more than a dozen retail and eCommerce brands to get the best value from Shopify Plus. Explore our work on Shopify Plus here: Shopify Case Studies
Final Verdict
In conclusion, Shopify and Shopify Plus offer powerful solutions for retailers of all sizes, empowering them to create successful online stores and expand their businesses globally. Whether you're just starting out or running a large enterprise, Shopify has a plan that suits your needs.
Both Shopify and Shopify Plus have user-friendly interfaces and provide reliable customer support to ensure your success. The scalability and flexibility of these platforms make them ideal for retailers looking to expand and adapt to the evolving eCommerce landscape.
Whether you're an established retailer or just starting your journey, Shopify is here to support your growth and help you achieve your business goals. With its ease of use, extensive features, and a strong community of users, Shopify is a trusted partner for retailers worldwide.
So, take the leap and choose the Shopify plan that aligns with your business objectives. Join the millions of successful eCommerce entrepreneurs who have transformed their ideas into thriving online businesses with Shopify. Get started today and unlock the full potential of your online store!"
Remember, you can customize this conclusion further based on your specific needs and preferences.