Enhancement of the shopping brand with the unique subscription service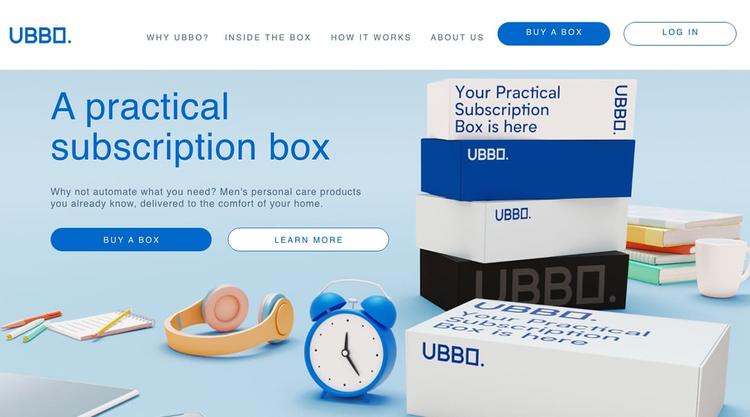 It's a fact that Men tend to have more active subscriptions at once, as opposed to female consumers, and our client UBBO knows that well. The brand focuses on making men's life effortless by introducing a personalized customizable subscription plan for personal care products.
Their main objective was to offer a solution allowing their customers to quickly view products, choose products from different categories, and order without interruption. The Previous website was built with core PHP. Now, we had to decide on the technology stack to upgrade the platform in a way that achieves the company's goals.
The UBBO team approached us intending to make user's life easy and improve their on-site experience by 10X. This also means that they wanted a seamless experience across the web and mobile by improvising their existing site.
What else could we say? We liked the project and headed on. The Techtic team brainstormed and curated a strategy to enhance the overall shopping experience on their digital store regardless of the customer's device.
How does the customer site look? – Frontend Features
Problem
The main concern for the existing website was its lack of performance and poor user experience, due to that they were not able to generate enough revenue.
Despite having an extremely useful service the brand growth was stagnant. Also, when we started looking into the website we realized that it was not responsive and hence had issues loading on different devices, which was also an important factor for poor performance.
Challenges
The Techtic team understood the client requirements and analyzed the challenges the brand was facing to address them intelligently. For example, to make checkout seamless for customers, we added payment gateways – Stripe, and Cards. To offer a truly customizable subscription plan, we said the Mix-Match Pro Add-on plugin. We also integrated the Zip code verify plugin to let customers find out if they can get the delivery even before they start shopping. And to make it effortless for the brand to run email marketing, Mailchimp integration was added too.
Result
Not only personalized user experience for their prospects and customers, but Techtic also made their Admins' job easier. Now the company can keep a close eye on its registered and subscribed users, products, product brands, and revenue, and generate weekly or monthly reports as well. They can now also manage and cater to their customers more efficiently by offering unique customer experiences as per their location.
Industry and Tech Stack
Tools & Technologies: 
HTML5, CSS3, JavaScript, WordPress, WooCommerce, MySQL
Services: 
Strategy, Development, Design
Client Says

"Thanks to Techtic Solutions Inc's work, we have witnessed a three-fold increase in conversion rates within the first six months. The team is very helpful, quick, and agile. Communication is thorough and efficient via email and Slack."
-Amanda S, Growth Director
@Mission MightyMe


-Daniel Protz,CEO
@Flavorwiki

"Techtic Solutions provides services fairly and at a great price. Both knowledgeable and communicative, the team strives for success and takes accountability for all their actions. Reports are timely and they manage the language barrier and some challenges in an effective manner."
-Kevin Garofalo, Chief Executive Officer
@Digital Marketing Agency

"The new site was completed successfully and has led to an improvement in the number of users reaching it as a result. The team managed the work effectively and maintained an excellent, personalized level of service throughout."
-Melissa Van Hise, CEO
@Iconic Pineapple

"The team provides responsive service and functional websites with high quality code. They are always available to communicate or make quick fixes. Customers can expect a great partnership and excellent results."
-Pete P, CEO
@Marketing & Seo Firm

"We have been using Techtic for over a year now, at multiple entities. I treat them as developers apart of my team and we have the ability to scale up in a few days if needed. They have been very receptive to feedback and the team stays the same."
-Hesom Parhizkar, Chief Technology Officer
@Wela

"The platform has received positive feedback for its performance and versatility. The team is innovative and well-suited for long-term partnerships. Coding is stable and deliveries are timely. They use a wide range of communication tools to keep the partnership effective."
-Hashem Omran, Co-founder
@Widelinked

"They are the best I've come across. The team stayed in constant communication while supplying deliverables in a timely manner. Their customer service exceeded expectations, providing great value for cost. The company's support has generated business growth and new opportunities for app. developers."
-Danny Salomon, CEO
@United Holdings Group

"The new functionality gives the app more potential and users are satisfied with the improvements. Techtic is trustworthy and has a good understanding of the technological tools available. They bring good ideas to projects and are supportive collaborators."
-Marcelo C, Founder
@Agohra
We Follow Agile
We encourage candid discussions and would be happy to offer consultation to understand and address your pain areas.
Our Process