Benjamin The Advisor Bot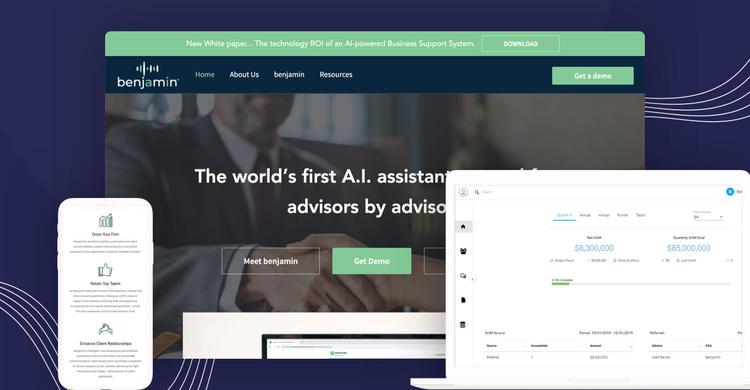 Benjamin is the financial advisor industry's premier cloud A.I. assistant which seamlessly integrates the software tools and data used by advisors and their teams to better service their clients.
Problem
Coordinating OAuth2 authorization for multiple CRMs may lead to authentication inconsistencies, causing potential access problems.
Accurately managing time zones for calendar events is intricate and error-prone, potentially leading to inaccurate meeting timings.
Designing a versatile query builder for diverse filters and data sources could be intricate. Poor query construction might yield incomplete or irrelevant search outcomes, impacting intelligent search effectiveness.
Challenges
We need to authorize user from multiple CRMs using oAuth2, and create calendar event with different time zone.
Fetch scheduled time slots from the CRMs to display scheduled meeting of all CRM into one calendar.
Manage paperwork of multiple companies to generate PDF, send it to the user via DocuSign CRM and, retrieve filled document.
For Intelligent Search, create dynamic query builder which will based on filters that applied to fetch the information.
Result
Finally, we built Benjamin from the financial advisor's perspective to create efficiencies and deepen relationships without losing that personal touch that makes a financial advisor so valuable.
Now you have one platform to pull out all the contacts from your CRMs that you used to manage it.
Getting touch with the client by schedule a meeting or sending continues update via conversation and many more.
Build strong client-advisor relationships through the power of smart, automated communication.
Industry and Tech Stack
Sector: 
Digital Products

,
FinTech
Tools & Technologies: 
GIT, Socket.IO, PDFTK, CRM, Salesforce, Wealth box, Zoho, Orion, Redtail, HubSpot, Junxure, Microsoft Dynamics, DocuSign, Ring Central, Calendar, Google, Outlook
Services: 
Strategy, Development, Design
Client Says

"Thanks to Techtic Solutions Inc's work, we have witnessed a three-fold increase in conversion rates within the first six months. The team is very helpful, quick, and agile. Communication is thorough and efficient via email and Slack."
-Amanda S, Growth Director
@Mission MightyMe


-Daniel Protz,CEO
@Flavorwiki

"Techtic Solutions provides services fairly and at a great price. Both knowledgeable and communicative, the team strives for success and takes accountability for all their actions. Reports are timely and they manage the language barrier and some challenges in an effective manner."
-Kevin Garofalo, Chief Executive Officer
@Digital Marketing Agency

"The new site was completed successfully and has led to an improvement in the number of users reaching it as a result. The team managed the work effectively and maintained an excellent, personalized level of service throughout."
-Melissa Van Hise, CEO
@Iconic Pineapple

"The team provides responsive service and functional websites with high quality code. They are always available to communicate or make quick fixes. Customers can expect a great partnership and excellent results."
-Pete P, CEO
@Marketing & Seo Firm

"We have been using Techtic for over a year now, at multiple entities. I treat them as developers apart of my team and we have the ability to scale up in a few days if needed. They have been very receptive to feedback and the team stays the same."
-Hesom Parhizkar, Chief Technology Officer
@Wela

"The platform has received positive feedback for its performance and versatility. The team is innovative and well-suited for long-term partnerships. Coding is stable and deliveries are timely. They use a wide range of communication tools to keep the partnership effective."
-Hashem Omran, Co-founder
@Widelinked

"They are the best I've come across. The team stayed in constant communication while supplying deliverables in a timely manner. Their customer service exceeded expectations, providing great value for cost. The company's support has generated business growth and new opportunities for app. developers."
-Danny Salomon, CEO
@United Holdings Group

"The new functionality gives the app more potential and users are satisfied with the improvements. Techtic is trustworthy and has a good understanding of the technological tools available. They bring good ideas to projects and are supportive collaborators."
-Marcelo C, Founder
@Agohra
We Follow Agile
We encourage candid discussions and would be happy to offer consultation to understand and address your pain areas.
Our Process