8 Key Challenges Fintech Industry Faces and their Solutions
Sector: Digital Product
Author: Chintan Bhatt
Date Published: 06/24/2021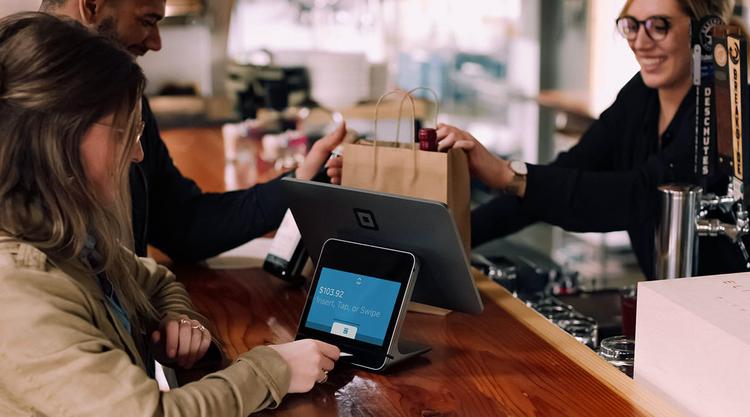 Digital innovations and trends in financial technology or the Fintech industry are revolutionizing how people, financial organizations, and banks manage their money. In the last five years, modern advances have drastically changed how people engage with their finances.
Fintech companies are on a path of enhancing their growth and building a reputation in the industry. Financial technology is improving and automating the process and services within organizations. However, these challenges push our imagination in new ways and encourage unparalleled growth, but there's room for improvement.
A survey by Market Screener reveals that the FinTech market will be worth $26.5 trillion by 2022, growing at a CAGR of 6%. The actual reason behind this growth is the need for loans and insurance and increasing interest in investments.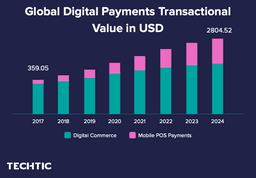 The sudden rise of numerous fintech start-ups in the finance sector has contributed to the growth of many other sectors through their efficient financial strategies. With this scope, the industry can grow better and generate more revenue.
Challenges that Fintech Industry Faces
Many prominent Fintech companies face various issues like long-fund raising cycles, missed out targets, and increasing losses. Well, these are very common issues as well. And these take place due to mismanagement of the leading lifecycle.
However, there are many other key challenges that the fintech industry faces every day. Let's discuss this now.
1) Data Security
Data security has become one of the major concerns in the Internet world – be it mobile banking, payment apps, or Fintech in general. As we know, traditional banking systems are confident with security guards, CCTVs, vaults, and heavy bulletproof doors to keep their data safe and secure.
But when we talk about virtual security, things are not as easy as we think. Vulnerabilities are much more discreet and have potentially more impact on users, as not only their money is at stake but their personal data too.
Solution
You can establish a high-level security app with the help of the Fintech app development company. The app may consist of the following factors to make it more secure:
Two-factor authorization
Biometric authentication
Data encryption and obfuscation
Real-time alerts and notifications
Behavior analysis
2) Compliance with Government Regulations
Finance is one of the most regulated sectors. There will always be interference from the government even if you leverage the traditional Fintech software that doesn't use blockchain and other crucial technologies.
Solution
Before creating an application or utilizing the software, make sure to check it for legal compliance. Moreover, if it's needed, you can hire a legal consultant to lead you through all the basic details and policy. Before entering the market, make sure your legal department is aware of the latest government policies so you can amend them immediately.
3) Lack of Mobile and Tech Expertise
In the fintech industry, some of the finance companies or banks don't have proper or convenient mobile banking services. However, some banks try to replicate websites, but in this digital world, nobody would prefer a mobile application. Every user wants a seamless and convenient option to use.
Therefore, a lack of expertise in fintech mobile app development services results in non-user-friendly applications that don't use mobile devices to their fullest potential. For example, apps may not benefit from NFC chips, geolocation features, fingerprint unlocking, and other features. A fintech bank can offer amazing experiences using these features and technologies.
Solution
Your mobile must have the following features to enable users with fintech app development services:
QR-code for Payments in public transport
NFC chip in shops
Automatic scanning of a credit card number with a lense
Two-factor authentication with a finger-print
This can be done using the full integration with the hardware of devices.
4) Big Data and AI Integration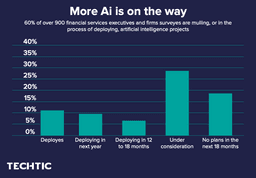 According to Accenture, 82% of US bankers and 79% of bankers globally believe that AI will revolutionize the way banks fetch data and interact with customers.
As we know, big data and AI have made their impact in every organization. Using big data, organizations can collect personal information about users, social status to financial behavior, habits, and in-app activity.
This data is very important to banks, especially when it comes to credit ratings and offering other high-risk banking services. With the help of big data, AI automates the whole process to detect fraud, perform a risk analysis, and manage transactions effectively.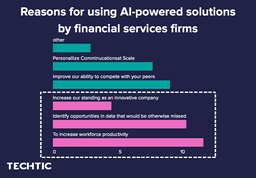 However, fintech organizations face various challenges to implement these technologies. They require expertise and constant maintenance.
If you are already in the banking industry, it will not be easy to integrate the latest technologies into your existing system. Implementing this will require not only technical adjustments but will reshape your business and require adaptation from you and your customers.
Solution
For AI and big data to combine, you will need to teach AI through machine learning. For this, you will need large amounts of data to train your system. Most banking apps are unable to process and fetch a large number of data sets. Hence, you can solve this problem with the utilization of a one-shot learning model that allows you to train your machine learning system on smaller amounts of data.
5) Blockchain Integration
You will find many fintech applications which are integrated with blockchain technology. Some of the companies don't find blockchain as a feasible solution, while others consider it as a solution for better data exchange.
You can make a Fintech industry more trustworthy by implementing a blockchain. As it allows you to analyze and track all the phases of a transaction and prevent any changes to it so that you can always have an eye on it. However, integrating a blockchain is quite a challenging task for many financial organizations.
Until now, banks and other financial institutions have been slow to pick up on the blockchain trend. On the other hand, fintech startups are more likely to try to disrupt the Fintech sector. However, they should consider the traditional banks and governments into account, as these institutions are still suspicious of new technologies.
Solution
As we know, it's not easy to integrate blockchain technology. While implementing this, make sure you adhere to government guidelines and laws. Moreover, avoid any government restrictions concerning your mobile services as they are still hesitant to allow massive blockchain adoption.
6) User Retention and User Experience
For the fintech sector, user retention and user experience are one of the major concerns. However, a fintech app should manage a balance between user experience and security.
For example, you should offer a mobile app banking service that is neither easy to break nor too hard to access.
Solution
While developing a fintech app, you have to make sure that the UI/UX part is secure and user-friendly. Furthermore, users are ready to access an app with two-factor authentication. But asking the details again and again for login may frustrate them.
Additionally, you can analyze your competitors and observe what they are using to offer a seamless user experience.
7) Effective Marketing Tactics to Acquire Customers
Generally, fintech organizations fail to understand their niche, target audience, and strategies. In recent times, where most people still use traditional banking services, Fintech companies find a hard time overcoming this challenge.
Solution
To enhance your business and strategies, you have to make sure you are significantly better than your competitors. And for that, either you have to invest a bunch of money, effort and put in human resources to offer seamless services to your customers or walk along with the traditional banks.
In this competitive world, offering the best product is not what your users would expect. You need to endorse yourself by telling them what you have created. Moreover, you have to come up with a strong and effective marketing strategy that consists of advertising, collaboration, etc. This will not only help you gain popularity but help you boost your brand awareness.
8) Personalized Services
Personalized services have been the primary and core factor of banking for a long time. However, in today's scenario, personalization means interacting with a user at the right time on their preferred channel with a proper solution to their exact needs.
Besides, customers are open to accepting Fintech as their financial wellness coach. Some users may feel overwhelmed with a wide spectrum of options, and effective personalization provides them only with the narrowed options they are looking for.
Solution
To overcome this challenge, fintech organizations should have precise customer insights. Moreover, fintech companies must understand the behavior of users and get insight into the user's health, social interactions, and events. Well, you can achieve this goal by developing trust with customers. You have to keep the user's data secure and safe.
Conclusion
However, there are many challenges we face and yet to overcome in the FinTech industry. Regulations and various government policies are challenging for fintech companies. However, we should always keep a balance between new technologies and compliance with the traditional system in order to disrupt the financial industry.
Although, it's not easy for traditional banking to adopt new trends and technologies. I believe that with time, mobile technologies will become even more common in the financial sector, as they're impactful and convenient for people while helping banks work more efficiently.
If you are planning for a fintech app, you can connect with the renowned fintech app development company – Techtic. We help you create your dream app with the desired features and functions that gives a seamless user experience. Consider these digital challenges as a robust solution and become a king in the fintech industry.