Revolutionization Of an IT company's Reliability and Visibility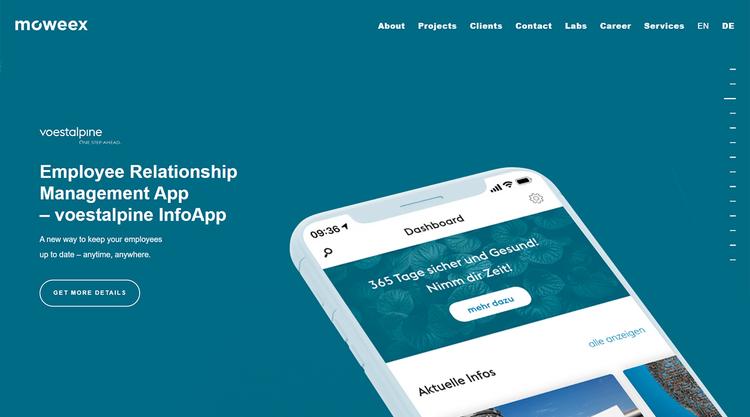 It was so exciting to help a company that shares our industry. When one of Austria's leading software development companies was required to elevate user experience on their website, they contacted us. Given that Techtic has the exact professionals and expertise they need.
The client's primary objective was to showcase the multi-talented expertise that has helped them achieve a 95% of happy customer rate. The company wanted to grow its global client network to improve the visibility of its successful projects and end-customers testimonials.
Our team set out to dig into every aspect of the client's website and marked weak areas in the system. Next, we conducted competitor analysis to strategize the website navigation. Because as per the client requirement, it needed to be as engaging as possible for users to explore successful projects and testimonials of existing customers. The analysis also helped us create an affordable website with a competitive advantage.
Since the client offers in-demand mobile app development services, they have to answer numerous common questions. So, to make their website more accessible and appealing to users, we advised them to integrate a chatbot function to never miss any chance to convert visitors into happy customers.
Speaking of missing, there is nothing better than having a talented team by your side to help you beat rivals and meet market demand. Hence, we also coded a stunning career page on the website so that our client keeps receiving brilliant and savvy applicants to join their club.
Admin features with powers to control the entire website
Dashboard for a quick analytical overview.
Manage to post on the Career page.
Manage image, video, blog, and other content on every web page.
Respond to and manage Customer request.
Create and Run Marketing campaign via notifications.
Newsletter Promotional, Communications.
Manage Business Rules.
Problem
It is a well-reputed company from Austria, offering global customers mobile, web, and other software services. Being internationally recognized, the company wanted to elevate its own digital presence. At the same time, they wanted to drive more eyeballs to the project they had successfully accomplished. In addition to that, designing appealing and intuitive navigation was one of their primary requirements.
Challenges
In the light of the client requirements, we had to create a platform with unique features and user-friendly navigation that steer visitors to see and analyze live software they have built and customers' feedback they have received. Thanks to our experts, we could overcome all the obstacles we encountered, such as:
Creating unique design and intuitive user experience;
Spotting lacking points and addressing them strategically;
Chatbot creations to enable the client to serve customer inquiries efficiently;
Making every page on the website informative and accessible with simple navigation;
Building a multilingual website to welcome customers from every corner of the world.
Result
All the research, analysis, and diligence of our team resulted in a well-structured website, delivering consistent and optimized performance. Navigating the website is now more instinct that customers can easily explore their services and projects and know more about the client. On the other hand, the client can implement their marketing strategy using marketing automation, notifications, newsletters, etc., to achieve their marketing goals.
Our articulately developed solution helped the client to gain more visibility on their targeted pages and attract a significantly increased number of potential leads.
Client Says

"Thanks to Techtic Solutions Inc's work, we have witnessed a three-fold increase in conversion rates within the first six months. The team is very helpful, quick, and agile. Communication is thorough and efficient via email and Slack."
-Amanda S, Growth Director
@Mission MightyMe


-Daniel Protz,CEO
@Flavorwiki

"Techtic Solutions provides services fairly and at a great price. Both knowledgeable and communicative, the team strives for success and takes accountability for all their actions. Reports are timely and they manage the language barrier and some challenges in an effective manner."
-Kevin Garofalo, Chief Executive Officer
@Digital Marketing Agency

"The new site was completed successfully and has led to an improvement in the number of users reaching it as a result. The team managed the work effectively and maintained an excellent, personalized level of service throughout."
-Melissa Van Hise, CEO
@Iconic Pineapple

"The team provides responsive service and functional websites with high quality code. They are always available to communicate or make quick fixes. Customers can expect a great partnership and excellent results."
-Pete P, CEO
@Marketing & Seo Firm

"We have been using Techtic for over a year now, at multiple entities. I treat them as developers apart of my team and we have the ability to scale up in a few days if needed. They have been very receptive to feedback and the team stays the same."
-Hesom Parhizkar, Chief Technology Officer
@Wela

"The platform has received positive feedback for its performance and versatility. The team is innovative and well-suited for long-term partnerships. Coding is stable and deliveries are timely. They use a wide range of communication tools to keep the partnership effective."
-Hashem Omran, Co-founder
@Widelinked

"They are the best I've come across. The team stayed in constant communication while supplying deliverables in a timely manner. Their customer service exceeded expectations, providing great value for cost. The company's support has generated business growth and new opportunities for app. developers."
-Danny Salomon, CEO
@United Holdings Group

"The new functionality gives the app more potential and users are satisfied with the improvements. Techtic is trustworthy and has a good understanding of the technological tools available. They bring good ideas to projects and are supportive collaborators."
-Marcelo C, Founder
@Agohra
We Follow Agile
We encourage candid discussions and would be happy to offer consultation to understand and address your pain areas.
Our Process