Developing a Scalable and Dynamic Travel Platform with React Native and Node.JS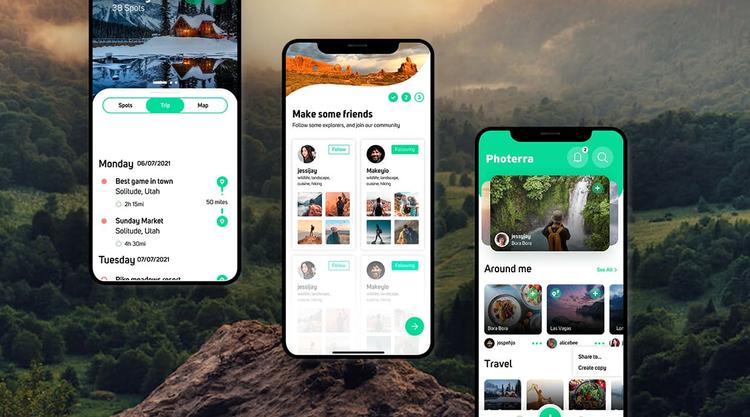 After recognizing the growing trend of travelers relying on mobile devices for planning trips and exploring travel spots, an idea emerged in our client's minds. They saw the potential for a platform where travelers could share their experiences and discover new places through the collective knowledge and recommendations of a community.
With this idea, our client approached our development team to build a mobile app that would fulfill such needs. The app would allow users to easily search itineraries and plan their trips while also providing a space for them to share their experiences and discover new places through the collective knowledge and recommendations of the community.
To shape the client's vision, we brainstormed and proposed cross-platform app development using one of the most used technologies, React Native. The technology we suggested supposedly accelerates development time and saves costs. Read on to know how our proposed solutions came out with the challenges we faced and the solutions we implemented.
User-friendly Frontend With Features Making Travel Planning Fun
Problem
Our client had the vision to create a platform with a user-friendly and interactive experience to cater to the needs of all sorts of travelers. They wanted to make it a community-driven platform where explorers and local travelers share their best spots and experiences that can help fellow travelers plan their trips. But the client didn't know what features and functionality to include that stand their platform apart from others.
The platform is supposed to collect users' personal details, including location, camera, and photo gallery. Hence, we had to consider the high level of data security and privacy standards to protect user data on the app. Besides, there would be global social community sharing posts, itineraries, photos, and more, which demand the app to be highly scalable.
Challenges
The travel platform needed to be available for multiple operating systems with a consistent user interface and experience design. The platform should be able to handle a large volume of data and user traffic as the user base may increase 10X or more with time. On that note, the app also required us to implement robust and secure data storage as well as communication API.
Other teeny-tiny challenges that our team successfully overcame include:
Ensuring that the platform is easy to use and navigate for all users;
Facilitating a system that can handle real-time data updates and notifications;
Creation of Admin and Sub-Admin functionality to handle the platform efficiently;
Integration of useful APIs, advanced features, and company details.
Result
We suggested the client opt for cross-platform mobile app development that is compatible with different devices and operating systems. As a result, our client could reap the following benefits;
Saved about 80 % of project time & budget;
Accelerate time to market;
Allowed our client to promote the platform on different mobile platforms and cater to a larger target audience.
Consequently, the community-driven travel planner app is revolutionizing the way people explore and plan their trips. The app utilizes a crowdsourced approach, where users can share and access information about destinations, accommodations, transportation, and activities. By leveraging the collective knowledge and experience of the community, the app now provides personalized and authentic travel recommendations that are not available through traditional travel planning methods.
Client Says

"Thanks to Techtic Solutions Inc's work, we have witnessed a three-fold increase in conversion rates within the first six months. The team is very helpful, quick, and agile. Communication is thorough and efficient via email and Slack."
-Amanda S, Growth Director
@Mission MightyMe


-Daniel Protz,CEO
@Flavorwiki

"Techtic Solutions provides services fairly and at a great price. Both knowledgeable and communicative, the team strives for success and takes accountability for all their actions. Reports are timely and they manage the language barrier and some challenges in an effective manner."
-Kevin Garofalo, Chief Executive Officer
@Digital Marketing Agency

"The new site was completed successfully and has led to an improvement in the number of users reaching it as a result. The team managed the work effectively and maintained an excellent, personalized level of service throughout."
-Melissa Van Hise, CEO
@Iconic Pineapple

"The team provides responsive service and functional websites with high quality code. They are always available to communicate or make quick fixes. Customers can expect a great partnership and excellent results."
-Pete P, CEO
@Marketing & Seo Firm

"We have been using Techtic for over a year now, at multiple entities. I treat them as developers apart of my team and we have the ability to scale up in a few days if needed. They have been very receptive to feedback and the team stays the same."
-Hesom Parhizkar, Chief Technology Officer
@Wela

"The platform has received positive feedback for its performance and versatility. The team is innovative and well-suited for long-term partnerships. Coding is stable and deliveries are timely. They use a wide range of communication tools to keep the partnership effective."
-Hashem Omran, Co-founder
@Widelinked

"They are the best I've come across. The team stayed in constant communication while supplying deliverables in a timely manner. Their customer service exceeded expectations, providing great value for cost. The company's support has generated business growth and new opportunities for app. developers."
-Danny Salomon, CEO
@United Holdings Group

"The new functionality gives the app more potential and users are satisfied with the improvements. Techtic is trustworthy and has a good understanding of the technological tools available. They bring good ideas to projects and are supportive collaborators."
-Marcelo C, Founder
@Agohra
We Follow Agile
We encourage candid discussions and would be happy to offer consultation to understand and address your pain areas.
Our Process