Plan-Professional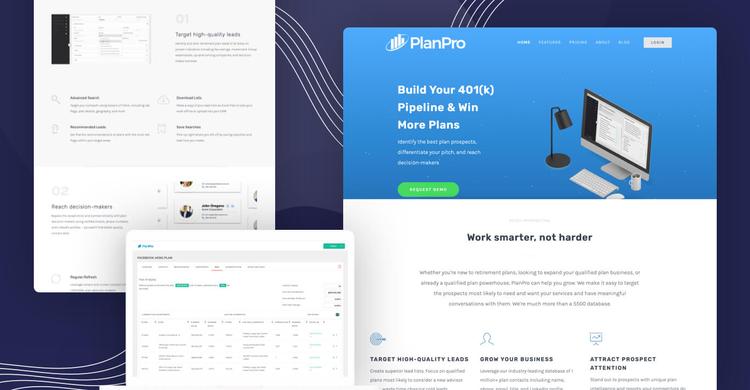 One of the primary roles of technology is to simplify tedious processes and make better the lives of people associated with it. While technology has been making it easy for industries like healthcare, entertainment, on-demand services and more, there were hardly any full-fledged applications in the fintech sector, dedicated especially to assist 401(k) consultants.
This was the reason why Plan-Professional emerged.
Problem
While discussing the challenges in the fintech industry, we realized a major gap in the 401(k) consultation sector. We noticed that the consultants were enduring a plaguing concern, which had to be fixed at any cost. The flawed system in place currently requires consultants to visit companies in person, look at their 401(k) plans, aggregate data manually and then pitch the right financial services.
But that's not the case any longer as Plan-Professional is built to fix the gap and bring in additional advantages to its consultant users. The platform offers insights to the consultants on companies and their 401(k) plans. With this information, they can seamlessly pitch fixes to the aspects where companies lack in their 401(k) plans.
Though we had identified the problem at hand and the solution, there were a few challenges and strategies we had to revisit. For a platform to offer comprehensive insights about the 401(k) plans of companies, a lot of background data collection and processing had to be done.
Another aspect of this challenge was to present the data in a visualization that will allow 401(k) consultants to easily draw inferences from the information presented. Besides, the platform should also be flexible enough to give them liberty in terms of usability and operations.
The platform should allow consultants to perform extensive searches about companies and their 401(k) plans, check additional details about companies like their investments, diversifications and other details, do a fees analysis and more.
One of the other challenges poised was in search results. One search spewed thousands of results, which became increasingly difficult for consultants to decipher and proceed. That's why we also had to come up with a solution to simplify search results.
Challenges
Because we were dealing with numbers and finance, we wanted to ensure optimum accuracy and credibility as possible. We were sure that there shouldn't be any space for human errors whatsoever. That's why we developed solid backend algorithms to ensure airtight search results to consultants and advisors.
For the search results, we also implemented the elastic search functionality to our algorithms to help consultants and financial advisors seamlessly search massive amounts of data sets quickly.
While doing our preliminary market research, we also noticed that experienced professionals were the major takers for the platform. There were several aspects we felt there could possibly be. There would be users who have adequate exposure to technology and there would also be professionals who are used to conventional offline methods of operations.
To ensure their onboarding was simple, we worked on an elegant user interface. We strategically placed buttons and came up with a layout that would lead users to one piece of information from the other. If you use it, you'll feel you've worked on this platform before or several times. The color schemes and fonts were also incorporated strategically.
Result
After tried and tested approaches and strategies and implementing search algorithms, the platform is now a full-fledged disclosure analysis tool, which is free. We set up an operational ecosystem that made it easier for consultants to follow an easy workflow. The platform can now generate and save leads list, write notes, create tasks, upload plans, manage retirement plan prospecting and accomplish other crucial tasks all from one single place.
Client Says

"Thanks to Techtic Solutions Inc's work, we have witnessed a three-fold increase in conversion rates within the first six months. The team is very helpful, quick, and agile. Communication is thorough and efficient via email and Slack."
-Amanda S, Growth Director
@Mission MightyMe


-Daniel Protz,CEO
@Flavorwiki

"Techtic Solutions provides services fairly and at a great price. Both knowledgeable and communicative, the team strives for success and takes accountability for all their actions. Reports are timely and they manage the language barrier and some challenges in an effective manner."
-Kevin Garofalo, Chief Executive Officer
@Digital Marketing Agency

"The new site was completed successfully and has led to an improvement in the number of users reaching it as a result. The team managed the work effectively and maintained an excellent, personalized level of service throughout."
-Melissa Van Hise, CEO
@Iconic Pineapple

"The team provides responsive service and functional websites with high quality code. They are always available to communicate or make quick fixes. Customers can expect a great partnership and excellent results."
-Pete P, CEO
@Marketing & Seo Firm

"We have been using Techtic for over a year now, at multiple entities. I treat them as developers apart of my team and we have the ability to scale up in a few days if needed. They have been very receptive to feedback and the team stays the same."
-Hesom Parhizkar, Chief Technology Officer
@Wela

"The platform has received positive feedback for its performance and versatility. The team is innovative and well-suited for long-term partnerships. Coding is stable and deliveries are timely. They use a wide range of communication tools to keep the partnership effective."
-Hashem Omran, Co-founder
@Widelinked

"They are the best I've come across. The team stayed in constant communication while supplying deliverables in a timely manner. Their customer service exceeded expectations, providing great value for cost. The company's support has generated business growth and new opportunities for app. developers."
-Danny Salomon, CEO
@United Holdings Group

"The new functionality gives the app more potential and users are satisfied with the improvements. Techtic is trustworthy and has a good understanding of the technological tools available. They bring good ideas to projects and are supportive collaborators."
-Marcelo C, Founder
@Agohra
We Follow Agile
We encourage candid discussions and would be happy to offer consultation to understand and address your pain areas.
Our Process