Transformation of UK-based Home Made Kitchen Blend Selling Platform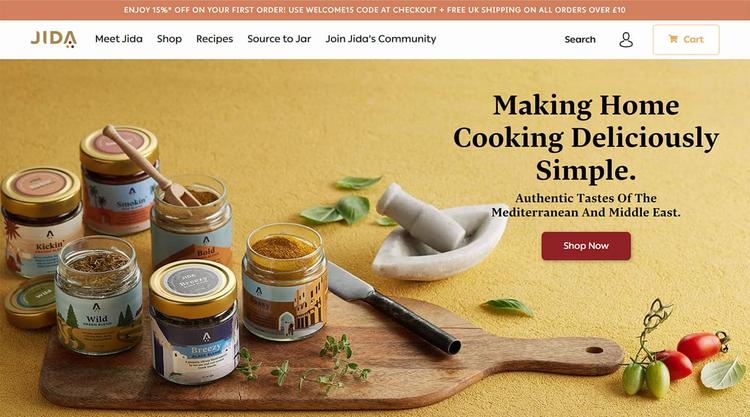 With the mission to "Making home cooking deliciously simple," our client offers kitchen spices blends 100% authentic and made with the finest local ingredients and recipes from the Mediterranean and the Middle East. Since their online kitchen blends store is on the rise, they wanted to level up their customer experience.
The main motto was to upgrade and maintain the platform to keep increasing the conversion rate. Providing customers with the ability to customize their own spice blends and order spices in bulk, creating appealing designs, and adding categories were some of the primary requirements of the client. They also needed functions to offer more opportunities to wholesalers to bring their products across the world.
After hearing the client's vision, our analyst team started brainstorming the best possible solution to meet all the platform needs. Our technology expert suggested using the latest Shopify CMS technology to make the kitchen blends selling platform smooth and efficient. It will also allow us to create mouthwatering product pages, personalize the navigation, and tailor an engaging user flow from browsing products to checkout.
As for the end-customer facility, the Techtic team proposed creating user-friendly separate functions for bundle products and customizing the bundle. We would also design a wholesaler section with essential features that will allow our client to mark their footprint in different regions.
Problem
Our client wanted to create a platform where they can encourage authentic Mediterranean and the Middle East taste by sharing special recipes as well as selling perfectly-formulated spice blends. However, to accomplish the vision of making homemade cooking simple and quick with their spices, the client needed:
A website uniquely tailored for customers that allows them to select multiple blends and order in bulk easily;
Maintain and upgrade the platform regularly to ensure that it runs smoothly;
Attractive product design with detailed product descriptions section with user-friendly navigations;
Recipes to build appetizing food using the spice blends at home;
B2B features create a chain of wholesalers to sell their products in different regions.
Challenges
First, the Techtic team analyzed the problems before planning to develop the best fit solution for the client. According to the client's vision, to improve and maintain a high-performing website, the team has to conduct maintenance weekly. To attract more customers and increase the conversion rate, we needed to make the shopping experience effortless and customize the website navigation flow along with tasteful product page designs.
Result
After multiple brainstorming sessions and iterations, the hard work of our team paid off when we delivered the project on time. Today, the platform has been launched successfully and sells traditionally formulated spices, making the authentic Mediterranean and Middle east taste accessible to numerous regions. Detailed and easy-to-grasp recipes available on the platform inspire and help its customers try delicious cuisines at their homes. All the features and functions work as they should, contributing to expanding the platform's customer base.
Client Says

"Thanks to Techtic Solutions Inc's work, we have witnessed a three-fold increase in conversion rates within the first six months. The team is very helpful, quick, and agile. Communication is thorough and efficient via email and Slack."
-Amanda S, Growth Director
@Mission MightyMe


-Daniel Protz,CEO
@Flavorwiki

"Techtic Solutions provides services fairly and at a great price. Both knowledgeable and communicative, the team strives for success and takes accountability for all their actions. Reports are timely and they manage the language barrier and some challenges in an effective manner."
-Kevin Garofalo, Chief Executive Officer
@Digital Marketing Agency

"The new site was completed successfully and has led to an improvement in the number of users reaching it as a result. The team managed the work effectively and maintained an excellent, personalized level of service throughout."
-Melissa Van Hise, CEO
@Iconic Pineapple

"The team provides responsive service and functional websites with high quality code. They are always available to communicate or make quick fixes. Customers can expect a great partnership and excellent results."
-Pete P, CEO
@Marketing & Seo Firm

"We have been using Techtic for over a year now, at multiple entities. I treat them as developers apart of my team and we have the ability to scale up in a few days if needed. They have been very receptive to feedback and the team stays the same."
-Hesom Parhizkar, Chief Technology Officer
@Wela

"The platform has received positive feedback for its performance and versatility. The team is innovative and well-suited for long-term partnerships. Coding is stable and deliveries are timely. They use a wide range of communication tools to keep the partnership effective."
-Hashem Omran, Co-founder
@Widelinked

"They are the best I've come across. The team stayed in constant communication while supplying deliverables in a timely manner. Their customer service exceeded expectations, providing great value for cost. The company's support has generated business growth and new opportunities for app. developers."
-Danny Salomon, CEO
@United Holdings Group

"The new functionality gives the app more potential and users are satisfied with the improvements. Techtic is trustworthy and has a good understanding of the technological tools available. They bring good ideas to projects and are supportive collaborators."
-Marcelo C, Founder
@Agohra
We Follow Agile
We encourage candid discussions and would be happy to offer consultation to understand and address your pain areas.
Our Process